2-0 is a deep hole to be in.  It is dark and scary down there, but that doesn't mean the ALCS is over.  Not by a long shot.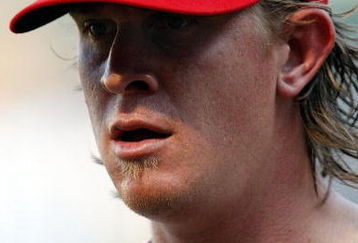 Jered Weaver says it isn't over.  I believe him.

Even the most staunch of Angel supporters has to admit that things look bleak for the team, especially given the manner in which the Halos dropped the first two games of this series.  The team that had learned to play free and easy in the post-season against the Red Sox has reverted back to their old uptight selves, making mental mistakes in the worst possible situations.  Things really couldn't look much worse… but that is actually the good news.
Let's be honest, the Angels played like crap the first two games of this series, but all it resulted in was them losing two road games by the skin of their teeth.  Now they come home for three games and can hopefully relax now that they are back in their own yard and back in warm weather.
The Yankees didn't exactly do anything special or extraordinary back in New York.  All they did was what they are supposed to do, win their home games.  There is no reason the Angels can't do the same.  Believe it or not, things are actually starting to fall into place for them.  They get Jered Weaver at home today, where he has enjoyed great success with a 9-3 record and 2.90 ERA during the regular season.  Chone Figgins started to come around at the plate in Game 2.  Torii Hunter has been hitting the ball with authority and is bound to turn that into real run production at any moment.  Kevin Jepsen and Darren Oliver have both been excellent thus far.  These are all good things and they can all lead to Halo victories.  If they can just find a way to eliminate the few bad things, namely mental errors and Vladimir Guerrero's unclutchness, they should be able to win all their home games as well.
---
New York Yankees @ Los Angeles Angels of Anaheim (Yankees Lead 2-0)

Starters: NYY – Andy Pettitte  LAA – Jered Weaver
Game Info: 1:13 PM PT TV-Fox, Radio-ESPN Radio, KLAA 830 AM, KFWB, KWKW 1330 AM
THREE Questions:
Is it possible for the Angels to get through a game without a bone-headed defensive play costing them?
Can the Angels get their running game going against Andy Pettitte and his killer balk move… err, I mean pick-off move?
Who in the line-up will step up to really get the Halo offense rolling instead of fighting and scratching for every run?
TWO Predictions:
Los Angeles hits their first homers of the series.  And yes, I meant homers plural.
The Angels win and Brian Fuentes picks up the save, though it will certainly be a tense one.
ONE Wish:
I wish to stop hearing about history.  Yes, I know that 17 of 20 teams that have had a 2-0 lead in the ALCS best-of-seven format have won the series.  Yes, I know that the Halos have never overcome a 2-0 series deficit.  Just shut up, I don't want to here about the past.  Live in the now!
ZERO Tolerance for… any more mental gaffes.  The Yankees are clearly a good team and the Angels are going to have to figure out how to stop beating themselves before they can even dream of beating the Yanks.
Leave your own questions, answers, predictions or wishes as a comment or just hang out with us during the game or even chat with us on twitter (@MonkeyWithAHalo).