The Angels have some very tough decisions to make this off-season.  We all know they have to figure out whether or not to bring back Chone Figgins, John Lackey and Vladimir Guerrero but the difficult choices go even deeper for the Halos.  As they wrestle to figure out who will lead the roster, they'll also have to decide how to fill out the back end of the roster and that starts by making decisions on several players who deserve a shot at a spot on the big league roster but are also out of minor league options.
Some Salt Lake Bees will be graduating to the majors this year, but not all of them, especially this guy.

Bobby Wilson – This is going to be a tough decision for the Angels to make.  Wilson has the defensive tools and just enough of a stick to make a solid back-up catcher in the big leagues and it is hard to argue that he isn't ready for the majors after two and half seasons spent at Triple-A.  Ideally, the Halos would want him to stick around as a third catcher to stash in the minors, but personally, it might be time to just make a decision between Mike Napoli and Jeff Mathis and have one take over as a full-timer, trading the other with Wilson promoted to the majors permanently as the back-up.  Doing that would probably save the Angels a million bucks or so as well as net them a mid-level prospect.  Either that or they have to let Wilson pass through waivers which is highly unlikely to happen.
Ryan Budde – Budde is pretty much the back-up plan for Bobby Wilson.  He probably shouldn't be in the majors, but he is nice for organizational depth should injury strike.  He has very little upside, so the Halos would most likely be able to slip him through waivers which is a good thing, as there aren't really any other catchers in the Angel system ready to play in the bigs if  pressed into action (Hank Conger is a year out still).
Reggie Willits – Poor, poor Reggie.  Despite a very nice rookie season, Willits has been asked time and time again to take one for the team and spend most of the last two seasons in the minors even though he really has nothing left to prove there.  He has just been the victim of circumstance in that he had options left and the Angels needed his roster spot.  But now that he is out of options, he should be in Anaheim to stay which should no doubt delight the legion of fans Willits has built in his brief tenure as an Angel.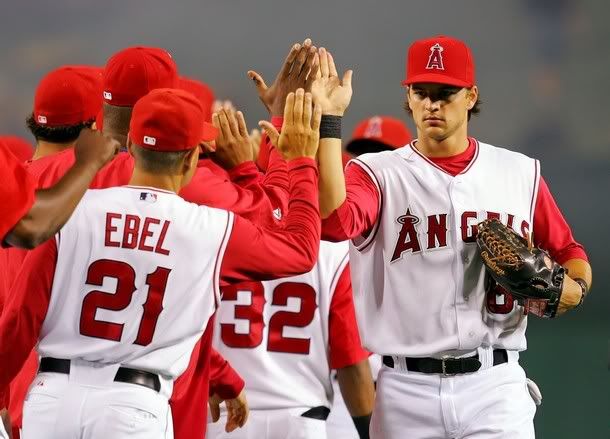 Congrats, Terry, not only are you getting a real number this year, but you might actually get to wear it all year long.
Terry Evans – The numbers game could totally screw over Terry Evans.  By all rights, he should be on the Angels as a reserve outfielder next year.  He has good pop, good speed and can play all three outfield positions.  However, Gary Matthews is chewing up a roster spot and Reggie Willits is in front of Evans on the Angel depth chart, not to mention a fan and franchise favorite.  If Tony Reagins can pawn Gary Matthews off on some other poor team, then Evans will finally get his big league spot.  If not, expect Evans to be shipped out to a team that can actually use him with the Angels getting a lesser prospect back in return.
Dustin Moseley – It seems like Moseley just isn't ever going to be healthy as he continues to be plagued by mysterious forearm pain that has cost him most of the last two years.  He'll get to go to Spring Training with the Angels but is an extreme longshot to make the roster and really just needs to prove he is healthy so that anyone will show interest in giving him a minor league deal after the Angels inevitably waive him, assuming Moseley is even healthy enough to pitch this spring, otherwise the Halos are likely to stash him on the 60-day DL.
Rich Thompson – Chopper has had multiple shots at securing a bullpen spot with the Halos and generally failed.  Barring a stellar Spring Training, Thompson will be cut loose to try and catch on with another organization.
Matthew Brown – Brown's best shot at making the big league roster is to start wearing Robb Quinlan's jersey and hope that nobody notices that he isn't really Q, but for all intents and purposes that is what Brown is trying to become.  Like Quinlan, Brown has put up nice numbers in the minors but isn't really considered much of a prospect, but he can play all the corner positions (as well as second base).  The Angels probably don't want to lose him, but they might have to depending on whether or not they carry 13 or 14 position players in 2010.  Getting cut loose might ultimately be best for Brown who, like Quinlan, is probably best suited working as a utility player in the National League.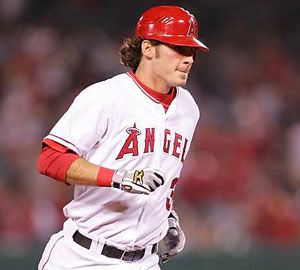 Wood will be on a big league roster next year, but will it be the Angels?

Brandon Wood – Finally we address the elephant in the room.  It is put up or shut up time for the Angels and Brandon Wood.  With no options left, the Angels can no longer delay making a decision on what they want to do with Wood.  Everyone knows that he needs an unchallenged full-time job if he is going to succeed in the major leagues and that means the Angels will either need to install him as their new third baseman or DH (depending on if they re-sign Chone Figgins).  The only alternative (and to me it seems like the one they are leaning towards) is to finally cash out on Wood via trade, using him as a centerpiece of a trade package for someone like Roy Halladay.  I have to admit, it would be a real disappointment to see Wood dealt away after having him touted as a franchise cornerstone for so many years without ever really getting a chance to establish himself.