When is an All-Star closer with a league-leading 41 saves not really a reliable closer?  Apparently, when that closer's name is Brian Fuentes.  The Angels' top reliever has gone from untouchable in June to unreliable in September and now, with just 19 games left in the season, both fans and management are fed up with his poor performance.  Now word has come down from on high that Tito's days as the Angel closer are over, at least in part, as he will now be sharing the roll with Kevin Jepsen.  Though the call is risky this late in the season, Scioscia is making the absolute right move both for Fuentes and the rest of the team.
Brian Fuentes isn't the only one stressing over his recent struggles.
The last thing the Angels' bullpen needed was for their closer to fail them, not with the all the trouble they've had with their relievers this year.  Already the Bullpen of Doom is saddled with the fourth worst bullpen ERA in the American League. After the loss of Scot Shields early in the season and the massive sophomore slump that has stricken Jose Arredondo, the Halos have precious few reliable relievers and cannot afford to screw around with waiting for Fuentes to work out his issues, not with the division still on the line and the playoffs just around the corner.  High salary be damned, if he isn't the best man to get the job done, he shouldn't be doing the job.
Fuentes' struggles have as much to do with his partial demotion as does the incredible season Kevin Jepsen is having.  If Jepsen wasn't throwing so well right now, we wouldn't even be having this conversation.  Since being recalled from the minors after an early season case of being a hunchback (scoliosis to be precise), Jepsen has been nearly unhittable, armed with his brand new wicked slider/cutter pitch.  Whereas Fuentes has been banged around since the All-Star game to the tune of a 5.60 ERA and .290 batting average against, Jepsen has limited batters to a .215 average and 1.55 ERA.  To continue stubbornly adhering to pre-defined bullpen roles just for the sake of doing so no longer makes sense with the vast disparity in performance between the two pitchers.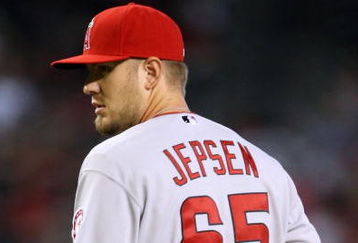 Ready or not, Jepsen is going to be thrust into the closer's role early and often.
Going to a closer-by-committee approach simply makes too much sense for Scioscia to not at least give it a try.  As good as Jepsen has been this season, he still struggles against left-handed batters, allowing a whopping .355 batting average against.  Conversely, Fuentes' primary struggles have come against right-handed batters.  So even though Scioscia has never been a big fan playing to the match-up with his relievers, the numbers are screaming for him to do so.  Personally, I think that a more flexible approach to using a team's top bullpen arms is something all managers should consider.  I know players like to know their roles, but just think about how many times a team would have been better off using their best reliever in a tough spot in the seventh inning to maintain the lead, rather than trotting out a mediocre middle reliever to try and protect the lead with the idea that the "closer" might be needed for later.  Only the middle reliever chokes it away and the closer never even gets into the game.  The old saying is if you are going to get beat, get beat with your best, and that is what Mike Scioscia intends to do going forward and I think it is a brash but brilliant move.
The important thing now is for Brian Fuentes to keep his chin up in the face of this adversity.  Fortunately, he has been down this road before.  Tito has a very complicated delivery that is prone to going out of whack.  When his mechanics go wonky, he just doesn't have the ability to beat hitters with a power fastball like most other closers, so they are able to wait him out and either draw a walk or get a pitch to drive.  It is the reason he has been demoted now and the reason he was never able to lock down the closer position in Colorado.  But Brian is also a very hard worker, throwing one the side every single day to keep his delivery in order.  Sooner or later he'll get his motion back and instead of being the weak link in the closer platoon, he'll turn it into a two-headed monster.