Los Angeles Angels of Anaheim (34-29) @ San Francisco Giants (34-30)

Starters: LAA – Matt Palmer (6-0, 4.11 ERA)  SF – Tim Lincecum (6-1, 2.66 ERA)
Game Info: 12:45 PM PT TV-Fox Sports Prime, Radio-KLAA 830 AM, KFWB, KWKW 1330 AM
What happens when two opposite forces collide?  Today chubby, anonymous, 30-year old rookie Matt Palmer will try to keep his Cinderella season rolling against his polar opposite, young, skinny, short hotshot ace Tim Lincecum.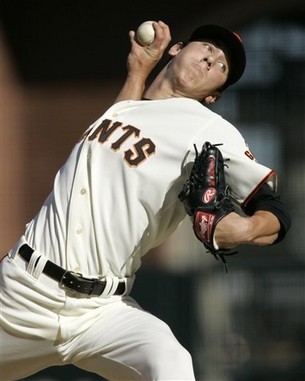 The bigger issues at hand won't be how Palmer goes toe-to-toe with Lincecum but whether or not the Angels bats can stay hot now that they have to face a real life pro pitcher rather the Josh Geers and Jonathan Sanchezes of the world.
---
THREE

Questions:
Can Juan Rivera keep on slugging now that he won't have another southpaw to feast off of again?
Will the Giants be able to stop Mighty Maicer or can they only hope to contain the man who has become a one man wrecking-crew of late?
Is Mike Scioscia going to regret using two of his more reliable relievers in a blowout game last night?  I can't say I am terribly eager to see Rafael Rodriguez pitching in a close game because Jason Bulger ended up throwing 25 pitches last night.
TWO Predictions:
The Angels bats cool off considerably and they only score four runs, with three coming against the Giant bullpen.  Fortunately, it turns out to be good enough for the win.
Pablo Sandoval gets the day off but still commits an error.
ONE Wish:
That this game was in an AL stadium so that Mike Napoli could DH and keep his surging bat in the line-up instead of getting the day off as is likely considering it is a day game after a night game.
ZERO Tolerance for… the Lakers championship parade which is forcing this game to be on Fox Sports Prime, which my Tivo is apparently unaware of, so now I won't have it on recording when I get home today.  Dammit.
Leave your own questions, answers, predictions or wishes as a comment or just hang out with us during the game.