Ace pitchers, power hitters and lead-off men, oh my!  Tony Reagins is working his butt of at the Winter Meetings to upgrade the Angel roster but he seems to be forgetting one key fact… it's the bullpen, stupid!!!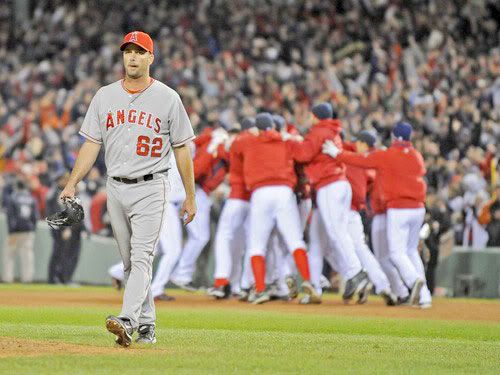 Get used to seeing more blown saves if the Halos really think they can bring back the same relief corps in 2010.

For all the trials and tribulations the Angels suffered this last season, how quickly we all seem to forget that the biggest problem in Halo Land isn't a punchless offense or a sub-standard starting rotation but rather the steaming pile of excrement they call a bullpen.  This should be common knowledge, yet the Angels' GM insists on pursuing a slugging corner outfielder to bolster the second-highest scoring offense in the league and a starting pitcher to improve upon a rotation that was fourth in the AL in ERA despite using so many stop-gap starters the first half of the season.  Have we already forgotten that the Angel bullpen had a bloated 4.49 ERA to go with a whopping 19 blown saves in the regular season?  Have we already repressed the memory of Brian Fuentes choking away an ALCS Game 2 victory by way of an A-Rod homer?  Have already ignored the fact that this is the worst bullpen of the Mike Scioscia era?  If we have, we are all frakking idiots.
All the Angels have done this off-season to address their relief concerns is to let Darren Oliver test the free agency waters.  This would be a fine strategy if there was some certainty that the pen would actually improve from within, but that is a risky proposition at best (though some might beg to differ).
Scot Shields is supposed to return, right?  Yeah, that will help, assuming his struggles last year can really be blamed on his bad knee and not on the fact that his arm has seen more action than Tiger Woods.
What about a bounce back year from Jose Arredondo?  Oh, you mean the guy who continues to defy management's wishes and is still complaining about elbow pain.  That will work out fine, I'm sure.
Kevin Jepsen is a rising star, isn't he?  Isn't that what they said about Arredondo last year?  Funny how different a guy performs after the league gets a full scounting report and some video on him, isn't it?  And let's not forget to mention that Jepsen still stinks against lefties.
But at least we have the closer role locked down?  Oh, we still have Fuentes closing?  Dammit.
RED ALERT!!!!  Brian Fuentes is still the closer!  PANIC!!!!!!!!!!!!!!
So, again, I ask, why isn't anyone trying to do something about this?  The Angels have already lost out on Billy Wagner, Takashi Saito, LaTroy Hawkins, Rafael Betancourt, probably Rafael Soriano and John Grabow.    That means there are already slim pickings in the relief market and Tony Reagins hasn't even grabbed a shopping cart yet.
The fundamental disconnect here seems to be that bullpens are generally deemed to be the least important part of a ballclub.  That is just plain ignorant if you look at how the Halos have been so successful this entire century.  For all intents and purposes, the Angel relievers have been so dominant prior to 2009 that they really only needed to get 18 or 21 outs from their starters and the game was theirs.  Now, the opposition is in the game until the final strike and the results have been less than inspiring.
So how about instead of diddling around chasing blockbuster deals and getting jerked around by other GMs, Reagins at least devotes some of his attention to fixing the biggest hole in the Angel roster?  Is that really so much to ask?