Aces, aces, aces.  That's all that Tony Reagins seems to be concerning himself with these days.  Be it Roy Halladay or Cliff Lee, the Angels general manager is obsessed with making a major splash before the trade deadline by landing a front-line starter to bolster his rotation.  Caution has been thrown to the wind.  All the proverbial eggs are in one basket.  Meanwhile the most glaring of Halo deficiencies is getting totally ignored: the bullpen.
Ah, yes, the Bullpen of Doom.  How could we possibly forget about you?  It isn't like you melted down last night to blow a very winnable game to one of the worst teams in the American League.  Oh, wait…
I know, I know, the Angel bullpen has been much better lately, moving all the way up from the worst bullpen ERA in the American League to the third-worst.  Yippee!  Problem solved.  Jason Bulger and Kevin Jepsen will save us all!  You're kidding me, right?
Look, I would be freaking ecstatic to see Roy Halladay or Cliff Lee in an Angel uniform in the very near future, but not if it means leaving the cupboard so bare that the Halos have nothing left to acquire a top-notch set-up man with.  The Halo farm system isn't exactly awash in blue chip prospects to begin with.  They don't have a single player in Baseball America's top 50 prospect rankings.  Their only player in the top 100 is Jordan Walden (#70) who is hurt.  That means if the Angels are to pull off a blockbuster for a Halladay-type they are going to have to overwhelm the other team with a quantity of prospects rather than quality.  What's going to be leftover for Reagins to use in his pursuit of relief help?  What the Angels are poised to give up for the Cliff Lee's of the world could probably buy them three quality bullpen arms.
Even if the Angel front office is able to swing a sweet enough deal for another starter and save some ammunition for another trade for a reliever, I severely question just how focused they are on the latter endeavor.  Already Tony Reagins has missed out on one of his top trade targets, Rafael Betancourt, who not so coincidentally was on the Cleveland Indian roster with Cliff Lee.  Despite obvious interest in Betancourt, somehow the Angels lost out on him to the Colorado Rockies who gave up minor league reliever Connor Graham, a low-A ball pitcher who isn't even a top ten prospect in the Rockie organization!  Thin farm system or no, there is little doubt the Angels could have trumped that offer.  Gee, I wonder if a certain GM was distracted by the prospect of prying loose a big fish pitcher when he should've been paying more attention to the smaller fish in that same pond?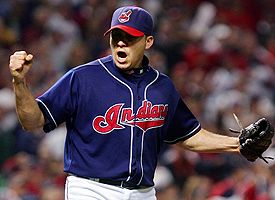 The trade deadline is a high-pressure situation and even the best of general managers can only keep so many plates spinning at once and Tony Reagins has a quite a few going right now if you believe the trade rumors.  The hottest Angel rumors have the team chasing Roy Halladay as option 1A and Cliff Lee as option 1B plus they are also looking at acquiring 2B Freddy Sanchez as a follow-up trade to a potential Cliff Lee deal.  The magnitude of those transactions is hard enough to handle unto themselves much less simultaneously.  Unless Tony Reagins never sleeps, I don't see how he can handle those negotiations and then find time to have serious conversations about the top relievers on the market that half of the league are all chasing as well.  I'm all for multi-tasking, but each human has its limits.
If Tony Reagins had all the time in the world to make his trades, this wouldn't be a problem.  But he doesn't, he has just under 72 hours to get all his shopping done.  That deadline is what creates the biggest problem for the Angels.  Guys like Lee and Halladay aren't likely to be dealt until just before the trade clock strikes zero.  If Reagins is too intent on securing one of them for himself, then he is going to have to keep all his trade chips on the table until the hand plays out.  Heaven forbid he swap the one prospect Toronto or Cleveland wants for some reliever.  But if he holds onto his assets for too long and whiffs on an ace then he may not have enough time to shift gears and make another deal.  No ace.  No reliever.  No hope for avoiding another ALDS belly flop.
In order to avoid an untimely post-season fate, Reagins needs to focus on either acquiring an ace or a reliever, not both.  Based on the rumor mill, it seems he might have made that decision and picked the starting pitcher over the reliever.  I sure hope that isn't the case though.  Pitching wins in the playoffs, but that doesn't necessarily mean starting pitching.  Having a strong starting staff isn't worth a damn if the bullpen can't hold a lead.  The Angels are getting by on the backs of Darren Oliver, Kevin Jepsen and Justin Speier right now, but there isn't a soul out there who has any confidence in that trio holding up under the rigors of post-season play against the best teams in the league.  With the Angel bats finally potent for a change, it would be a crying shame to see them go to waste because of obviously subpar middle relief work.
Starting pitching would still be a concern, no doubt.  But at least in that regard the Halos can hope for improvement from within.  Ervin Santana has shown flashes of regaining his All-Star form and Joe Saunders isn't a totally lost cause.  In the playoffs you really need three reliable starters and the Angels have two already in John Lackey and Jered Weaver.  They just need Santana or Saunders to work out their demons in the next two months.  It certainly is a gamble, but at least there is a chance the Halos come out on top whereas there is absolutely zero chance that a member of the dodgy bullpen suddenly evolves into the second-coming of K-Rod.
Three days is still enough time for the Angel management to take corrective action and get their priorities straight, but the clock is ticking so any further dalliances with pipe dream mega-deals could prove very costly.  The Angel front office has been too smart and savvy over the last several years to let themselves get distracted now when the team has so much going for them.  Play it safe, get a bullpen arm now and if you still have the time and prospects, then go get yourself another starter.