The search for the Angels new play-by-play announcer has finally come to an end after months of speculation in the wake of Rory Markas' death.  And the winner is… (dramatic drum roll)… Victor Rojas!!!!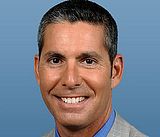 Welcome aboard, Victor!!!  Now don't screw it up.

Rojas has most recently worked as an anchor for the MLB Network after serving as the Texas Rangers (boo!) play-by-play man for several years.  I can't say that I have seen much of his play-by-play work but Rojas definitely comes with a nice resume and the added bonus that he once played in the Angels minor league system.
With Markas such a popular and respected figure in the Angels' organization, Victor has some tough shoes to fill.  At the same time, Rojas also has some small shoes to fill since he is also semi-replacing the Steve Physioc and his frosted tips.  If Rojas can avoid Physioc's douchebaggery and find some good chemistry with Mark Gubicza, Angel fans might finally be getting the strong TV announcing crew they have been begging for most of the last decade.