Another week of Spring Training is in the books for the Halos, so let's take a look at the week that was and all the newest developments for the Angels as they prepare for the 2010 season: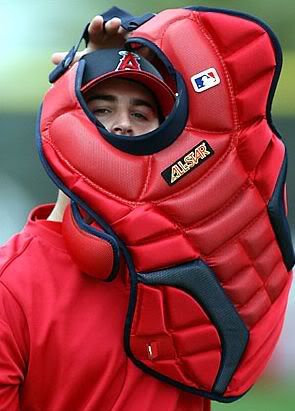 No need to be bashful, Naps. You are off to a stellar start this spring.
The Good:
Hideki Matsui finally made his spring debut for the Angels.  He is still off to a cold start, but the good news is he is playing and seems to not be limited in the batter's box or on the basepaths.  His next test will be in the field but I keep hoping the Angels decline to administer that test.
Mike Napoli leads the Cactus League with 4 home runs so far.  Somehow this will still result in him playing just five of the Angels' first ten games when the regular season rolls around even though Jeff Mathis has just a .414 OPS in 14 spring at-bats.  Interestingly, former Angel prospect Sean Rodriguez leads the Grapefruit League in home runs as well with 4 dingers of his own.
Ervin Santana is making a dark horse entry into the Angel ace race.  Thus far Ervin has not allowed a run in five innings of work, including his most recent appearance in which he pitched three innings of one-hit ball, striking out five hitters in the process.  He'll have to keep it up if he wants to get the Opening Day nod, especially since Jered Weaver is starting to round into form.
Scot Shields finally returned to the mound for the first time since late-May of 2009, working a shutout inning in relief on Friday. Amazingly, this actually puts Shields in good position to be the de facto set-up man when the seasons starts since Fernando Rodney and Kevin Jepsen still have yet to see any game action thanks to injury problems of their own.
Non-roster invitee Michael Ryan is making a strong play for the back-up outfielder's job.  He is hitting .429 in 14 at-bats so far this spring and has a slugging percentage of .714 to go with it.  Obviously that is a small sample size, but Ryan has some major league experience and some pretty good numbers in the minors in recent years, so it isn't totally unthinkable that he could make the Angels out of camp.  He has some pop in his bat unlike Reggie Willits and more patience than Terry Evans.  The only problems in Ryan's candidacy is that he is left-handed and lacks speed.  The Angels need versatility off the bench and that means someone who can steal bases and hit southpaws.
After making three errors in the first three Angel games, Howie Kendrick managed not to boot one this week.  Sadly this qualifies as  progress.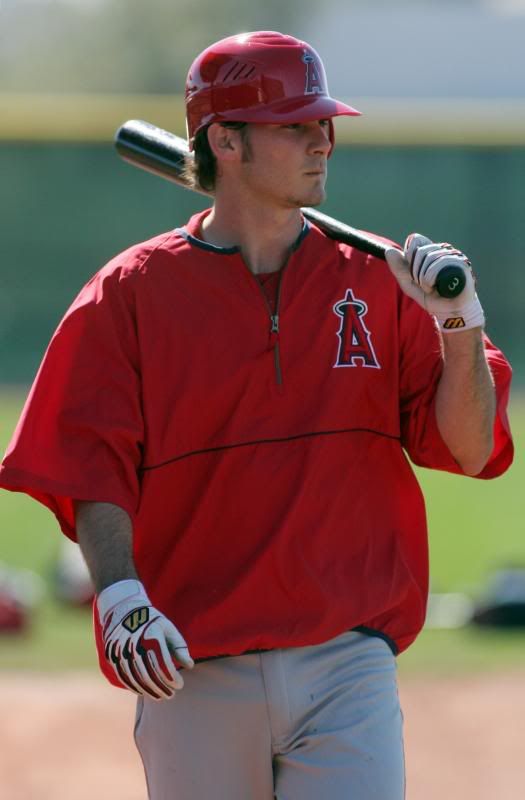 A slow start to the spring could be a problem for Brandon Wood.
The Bad:
The Angels finally got around to winning their first games of the spring when the week started, but they haven't done much winning sense and now stand at 2-7, the worst record in the Cactus League.  If not for the winless Nationals in the Grapefruit League, the Angels would be dead last in all of baseball.  Suddenly all these dire statistical projections are starting to make a little bit of sense.  However, just to put things in perspective, keep in mind that the rebuilding Cleveland Indians are in first place in the Cactus League.
Matt Palmer is off to a pretty tough beginning to the Spring, getting bombed in both of his appearances thus far.  There is only so much stock you can really put into spring numbers, but if Palmer doesn't shape up soon, he could end up starting the year in Salt Lake rather than Anaheim.
Reggie Willits just can't buy a break.  He has spent the last two seasons mostly toiling in the minors even after his strong 2007 rookie season, patiently awaiting a roster spot to open up for him.  Now that he is the front runner for the back-up outfielder job he goes and strains his hammy and may lose out on the gig after all.
After spending the last week telling everyone how great his arm finally feels, Joe Saunders got lit up like a Christmas tree in his first appearance of the spring.
Maicer Izturis has an OPS of .871 while Brandon Wood has an OPS of just .606 while also striking out six times in 25 at-bats.  All the stars are already starting to align for Mike Scioscia to find a lame excuse to start Izturis at third this season rather than Wood.  Fortunately, Wood hasn't committed an error yet, so he still has a fighting chance.