Another week of Spring Training is in the books for the Halos, so let's take a look at the week that was and all the newest developments for the Angels as they prepare for the 2010 season with the added bonus of having just returned from visiting the Angels in Tempe this last weekend: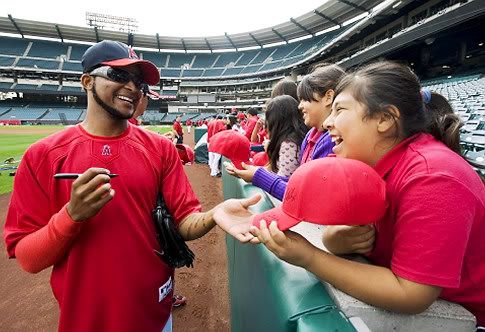 Ervin is one of the only Angel starting pitchers with reason to smile this spring.
The Good:
The Angels are slowly starting to get healthy.  Abreu is back, Aybar is at least hitting again and Matsui is expected to play the field soon.  With all the early health problems for the team, we can kind of excuse the bad record, but now that everyone is getting close to 100%, the team better start winning real soon just for the sake of their own confidence.
This could be good or bad, but I am going to be optimistic and say good.  Ervin Santana is far and away the best performing starting pitching in training camp so far.  Everyone seems confident that the rest of the rotation will round into form, but if Ervin can use this fast start to jump start his season and get him back to performing like an All-Star and potential ace, the Angels are going to be a force to be reckoned with.
Not to be mean but it looks like a very good thing is going to happen this spring and Robb Quinlan is NOT going to make the team.  He has been positively abysmal at the plate and while Freddy Sandoval hasn't been much better, I don't see the Angels wasting a roster spot on a veteran with no potential who isn't performing when they could give it to a youngster who has a better shot at improving.
Brandon Wood has played in almost every single Angel game this spring, demonstrating a very clear organizational commitment to give Woody every chance to succeed this spring.  I don't know if he will continue to get such regular playing time once the real season starts, but he is at least in a position to be in a groove with his swing once the season begins, something he has never had in his previous auditions with the big league club.  Also, it is worth noting that he has struck out just seven times in 38 at-bats, which isn't a great rate, but a real improvement for him and something I am sure the Angels can live with.
I must have missed this signing, but I saw Chad Orvella make his Angel spring debut.  He isn't going to make the team but is a nice power arm to have in the minors.  Orvella had some real success with Tamp back in 2006 before he started having arm problems.  If he is finally healthy, it wouldn't surprise me to see him get a call up to the majors at some point if injuries strike.
My own personal observations at spring are: 1) That the Angels appear to be arguably the most popular team in the Cactus League which really shows just how much the team has grown under the guidance of Arte Moreno.  2) I didn't get there in time, but I heard the Angel players were very accommodating with autographs before the game.  3) It seems the Halos are one of the few teams in Arizona that doesn't share their spring complex with another team, so you know when you visit the complex you are going to be among mostly Angel fans, which is a big plus if you had to listen to the conversations some of the dumbass Mariners fans were making at the game I attended.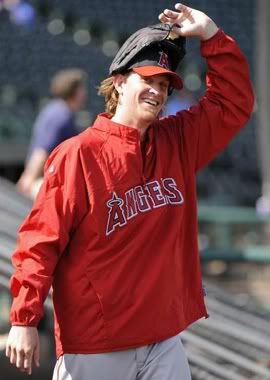 Hey, Jered! Quit screwing around and start pitching like a real ace already.
The Bad:
Someone needs to tell Jered Weaver that it is time to get playing lab rat and start getting serious about the upcoming season.  For a supposed ace-in-the-making, Weaver has spent the entire spring getting shellacked by the opposition as he experiments with a new slider and a new two-seam fastball.  Those are great ideas and everything, but the results have been iffy at best and it might be time to shelve those new pitches until next off-season and focus on getting his normal stuff fine tuned instead.
Matt Palmer is getting lit up like a Christmas tree every time he takes the mound and it is starting to raise questions as to whether he is going to make the Opening Day roster.  Palmer might be better off working in the minors and staying stretched out as a starter rather than as a little-used swingman, allowing the Halos to carry 14 batters, thus keeping Terry Evans or Michael Ryan on the active roster.
I still don't understand the fixation on trying to get Hideki Matsui some work in the field.  He is only just now healthy enough to serve as a DH and he isn't even performing well in that role yet but the team continues to make plans to try him out in the outfield.  I've said this 100 times already, but if Godzilla gets injured playing the field, Mike Scioscia is going to have a lot of explaining to do.
The Angels picked up two more wins, but they remain last in the Cactus League standings and that just can't sit well with anyone no matter how much you tell them that spring training is meaningless.
A few drawbacks from my Tempe trip: 1) Try selling a few less "standing room only" tickets, Arte.  There was way too many people at the Sunday game I attended and it really hurt the overall experience as it led to a kind of musical chairs game with all the standing people constantly trying to steal seats whenever they though they noticed an abandoned one.  2) If you are headed to spring training to see the Angels, make sure you get the box seats or even lawn seats because the bleacher benches might just be the most uncomfortable seats in town.  3) Get to the games early because there is NO parking at all.  4) The beer prices at Tempe Diable Stadium clearly are not managed by Arte Moreno since I had to pay $8 for a "premium" beer with the "premium" beer being a Rolling Rock.  Shameful.