P.T. Barnum once said, "There is a sucker born every minute."  Today, that sucker is Mets GM Omar Minaya who has reportedly traded for disgruntled Angel outfielder Gary Matthews Junior.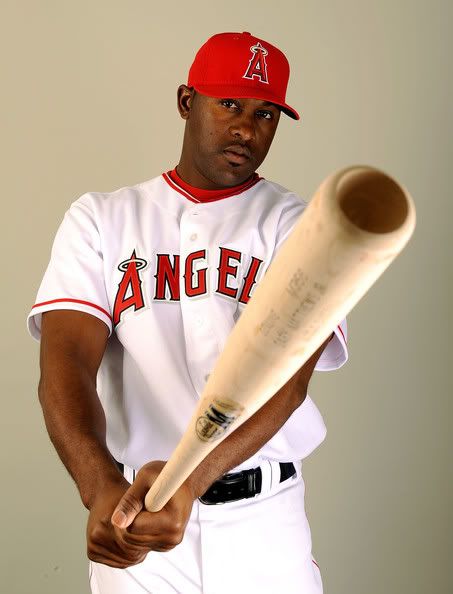 Good riddance to bad rubbish.

There is no word yet on what the Angels are getting from the Mets, but the story speculates it will be prospects with the Angels eating much of the remaining $23 million on Matthews' contract.  It is also possible the Angels might take back Luis Castillo and his bad contract which the Mets have been looking to move all winter, but I can't imagine the Angels feeling a need to add another player to their middle infield logjam.
No matter what the Angels get back in return, the trade of Matthews closes the book on arguably the worst free agent signing in Angel history.  Matthews was signed three years ago after a career year with the Texas Rangers that saw him named to the All-Star team.  Instead of filling the cavernous void the Angels had in centerfield, Matthews proved to be a sore disappointment both at the plate and in the field and lost his starting gig after one year when the Halos brought in Torii Hunter to take over.  Since then, Matthews has continued to not perform but still felt justified in grumbling about his playing time at every given opportunity, making him one of the most maligned Angel players in recent memory.  He leaves town with a career .248 average as an Angel.  There is no truth to the rumors that there will be an impromptu parade on Katella Avenue to celebrate his departure, though I would like to personally volunteer to drive him to the airport just to make sure he actually does get the hell out of Anaheim.
UPDATE #1 – Jerry Crasnick is hearing it is a low-salaried starter off the Mets big league roster.  Pat Misch would make sense because he is a lefty and could be used as a lefty-specialist in the Angel pen.
UPDATE #2 – Fox Sports is reporting that, in fact, the player the Angels are acquiring is Brian Stokes, a right-handed reliever. No word yet on just how much money the Angels are eating.  Stokes clearly becomes the odds on favorite to win the final spot in the Angel bullpen.
UPDATE #3 – Jon Heyman closes out the final details on the deal saying that the Angels will pay all but the $2 million of the $23.5 million still owed to GMJ.  It would have been nice for the Angels to save some more money, but this is probably the best they could do and at least there is a chance that they got a useful reliever out of the deal though Stokes certainly seems like a mop-up guy right now.