An Angel loss in which the Angel offense came up with too little too late.
Los Angeles Angels of AWESOMENESS

Brandon Wood looks like he might be coming around.  He picked up a walk and a hit today and should have added an opposite field double to his line as well if not for a great play by right fielder Nick Swisher.  It is a small step forward and hopefully enough for Angel fans to get off his back for a few days.
Abreu's ninth inning grand slam may wind up being a momentous event for the Halos.  Not only did it inject a little life into a team that had been putrid with RISP all day long, but it was the first grand slam by an Angel since the 2008 season.  It is just too bad that the Yankees have the ultimate hammer in Mariano Rivera who stepped in and quickly shut down any ideas of an amazing ninth inning comeback by the Halos.
K-Mo is starting to catch a little bit of fire, especially after today when he racked up three hits including his second homer of the year and is now riding a three-game hitting streak.  Now we just need him to start turning those hits into more runs.
Los Angeles Angels of FAIL

First off, screw the Yankees for starting the game at the ungodly hour of 10 am.  That did turn out to be a bit of a blessing in disguise though since I was stuck at the office and not subjected to watching the Yankees receive their championship ring.  But the real let down was that Yankees were so damned classy during the ring ceremony by saving Matsui's for last and giving him a big group hug afterward.  How am I supposed to hate the Yankees when they do nice things like that?  I mean, I still hate them, it is just a lot harder to pull off after great sportsmanship like that.
Andy Pettitte continues to be the Angels' nemesis.  He ended the Angels' season last year in the ALCS and got them again tonight.  Angel hitters just seem baffled by him early on, fanning six times in the first four innings.
Mike Scioscia have his manager's license revoked if he ever brings Jason Bulger in with runners on base again.  If the Angels had been able to escape that sixth inning without any further damage, they would have been in much better position for their comeback, down three instead of down five.  Sure enough, Bulger just couldn't get the one out he needed and allowed two more runs in a game that the Angels ended up losing by two runs.  Bad, Scioscia, bad!  Bulger just isn't cut out for that kind of work.  He is too mistake prone to handle runners on situations and should only be used to start an inning with a clean slate.  The correct call would have been to go to Kevin Jepsen.
Two more runs allowed by Bobby Cassevah really sealed the deal for the Yankees as the Angel bullpen continues to take away any chance the Angels have of winning games.  I hope Bobby enjoys his flight back to Salt Lake City.
Life really was never fair to the Angels in this game.  How can you possibly expect them to win after the team witnessed a man commit suicide by jumping off the roof of the team's hotel in New York?  You can't possibly have a normal and successful day after seeing something like that.
Angel A-Hole of the Game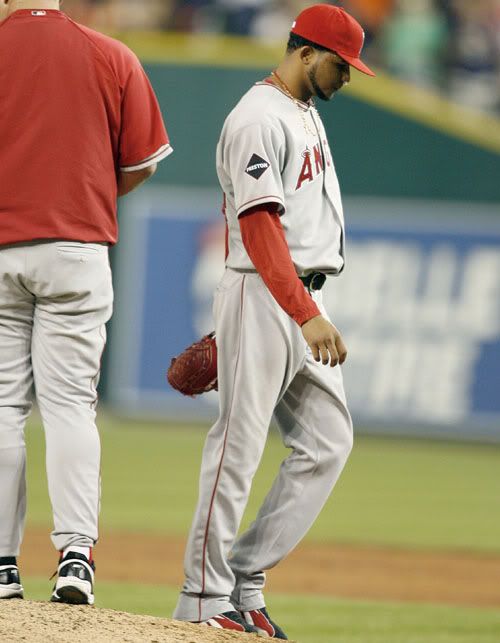 Someone needs to buy Ervin Santana a GPS navigator so he can finally figure out where the strike zone is.

It should be no surprise to see this dishonor go to Ervin Santana.  El Mineo had absolutely no command today, just like in his first start of the season.  60 strikes versus 53 balls pretty much says all you need to know about his performance (and that ratio was actually much worse in the early innings).  The velocity and stuff is there for Santana, but it just isn't any good unless he can throw strikes.  Frankly, Santana should consider himself lucky to not have given up 10 runs today because his command was just that bad.