An Angel win in which the Halos finally got some motivation.
Los Angeles Angels of AWESOMENESS

I don't know what Mike Scioscia said in the closed door meeting with the players yesterday but it definitely worked.  Every single Angel looked more amped up and locked in for this game than they have all season.  I just wish Sosh had taken the team to task a few games ago.
Perhaps the most noticeable change in the Angel offensive approach is that they FINALLY got back to attacking teams on the base paths as we saw from their three steal attempts.  I have been begging the Halos to start running more and I finally got my wish tonight.
OK, I give in on the Mathis-Napoli debate… for now.   Mathis now has a hit in every single one of his starts and as long as his bat is hot, Sosh needs to keep riding it.  He just needs to not hesitate to switch back to Naps once Mathis cools down (and he will cool down).
The best thing about Joel Pineiro's start wasn't the strikeouts or how well his sinker was working but that he was able to go seven full innings and save the beleaguered bullpen some work.  That was especially important today in light of the news that Brian Fuentes is on the disabled list.
I could continue my campaign of hate against Fernando Rodney, but I am not going to do that.  I am not going to point out that Rodney worked a clean inning but did it against the bottom of the Yankee order and that he had a bizarre shadow halfway between the mound and plate that made it almost impossible for hitters to read his pitches.  Nope, I am not going to do that at all.  I am just going to commend him on his first save as an Angel.  See, I can be nice.
Los Angeles Angels of FAIL

Maybe it is time to start pitching around Robinson Cano because he is absolutely wearing out Angel pitching.  He had two more hits today (in addition to two yesterday) and the Angels got lucky that the bullet he hit in the 8th went right to Wood instead of driving in more runs.
I hope Mike Scioscia has learned his lesson about using Scot Shields.  Sosh has always been loyal to a fault and it really is a fault right now because Shields keeps getting put in close-game situations even though he clearly is not ready for that yet.  He hasn't looked good at all this year and needs to be worked back slowly, not thrust right into the fray.
I am sure part of the reason Shields is getting pushed to be the set-up guy is because Kevin Jepsen wasn't much better.  He didn't allow a hit (partly due to good luck) but he would have had at least four wild pitches (rather than one) if not for Jeff Mathis bailing him out every time he buried a slider in the dirt.  Kevin was lucky to escape the eighth inning allowing just one additional run to score.  Nonetheless, Jepsen did get the job done well enough and should be considered the primary set-up man until Fuentes returns.
A quick note to Victor Rojas, "light that baby up," is not working as a catch phrase call on Angel wins.  I don't like it and I know I am not even close to the only one.  Come up with something new or take the novel approach of not having a personalized call at all.
Halo Hero of the Game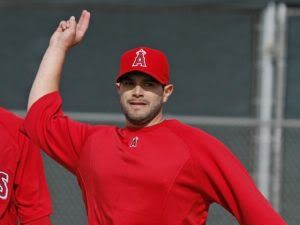 Anyone who shuts down the Yankee offense is automatically hero of the game.

Absolutely the best start by any Angel pitcher this season thus far.  Pineiro didn't just shut down the Yankees by getting them to pound the ball into the ground (which he did) but also by showing excellent control and keeping the Yankee line-up off balance, allowing him to rack up seven strikeouts and the first non-Weaver win for the Angel starting rotation.