An Angel win in which Joel Pineiro dominated again to help blank the Tigers.
Los Angeles Angels of AWESOMENESS

The Angel pitchers must be inspired by the playoff hockey going as they made some fantastic stops tonight.  Pineiro made a great glove save early in the game on a line shot back in the mound then he saved a run in the seventh with a brilliant kick save on a two-out grounder up the middle, keeping the ball in the infield and the runner at second had to stop at third.  Finally, Kevin Jepsen was able to knock down a hard bouncer with runners in scoring position in the eighth and the collected the rebound to make the assist on the final out of the inning.  Jonathan Quick would have been proud.
Just so you all know, we now live in a world where Jeff Mathis is hitting .324 with a ten-game hitting streak and is tied for the team lead in stolen bases.  I am just as amazed as you are.
Raise your hand if you totally thought that Fernando Rodney was going to get too excited to face his old team and blow the save.  Yeah, me too.  Kudos to you for proving us all wrong, Fernando, and kudos to you and Jepsen for keeping the shutout intact.
Howie Kendrick continues to just murder the ball and has been doing so all season long.  With Abreu and Morales struggling, Scioscia simply has no choice to start shaking things up and moving Howie up the order and Bobby and Kendry down in some arrangement.
Los Angeles Angels of FAIL

It is beyond me how Dontrelle Willis held the Angels to four hits.  At no point did I ever think, "Wow, he is really on tonight."  Unless he is the new Jamie Moyer and nobody told me, I don't get how he was able to work in the mid-to-high eighties most of the night without getting obliterated.  His control was nothing special but he had the Angels off-balance just enough as several guys seemed to just miss what should have been their pitch to drive.
Poor Brandon Wood.  It looked like he had his first big RBI hit back in the fourth when he launched a would be double into right field.  Magglio Ordonez ran after it like he was drunk but still managed to reel it in to end the inning.  Rewind the game on your DVR and you can read Wood's lips as he drops a few select curse words after Magglio made the catch.
I know Johnny Damon has a wet noodle for an arm, but Howie Kendrick must have been celebrating 4/20 a little early if he really thought he was going to tag up and advance from first to second on a deep fly ball to left field.  He did make it close, but if he is going to take that kind of risk, it should be on a ball that Damon has to catch on the move, not camp out under so he can set himself up to make a good throw.  There is aggressive and there is stupid and that was stupid.
Halo Hero of the Game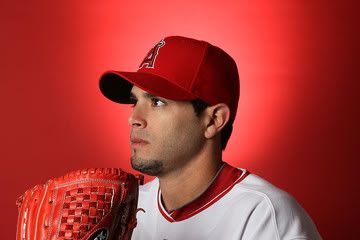 A new nickname for Pineiro: Blankman?

Pineiro done did it again!  Joel wasn't as dominant as he was against the Yankees, but the results were pretty much the same as he scattered nine hits without walking a single batter to turn in 7.1 innings of shutout baseball.  That is more than good enough to make Pineiro the first two-time Halo Hero of the young season.