An Angel loss in which the Halos just fell apart.
Los Angeles Angels of AWESOMENESS

A great vote of confidence was given to Erick Aybar when he was allowed to continue starting in the lead-off spot despite Maicer Izturis being in the line-up as well.  Scioscia had strongly suggested all spring that Maicer would lead-off whenever he played but Sosh instead rewarded Erick for his solid early showing this year.
Joel Pineiro did give up a home run, but the sinker was mostly working all night long.  All fifteen of Joel's (non-strikeout) recorded outs came on the ground.  That is a very good early sign that his 2010 season could replicate his excellent 2009 campaign.
It was a great sight to behold before the game as Mike Scioscia received his Manager of the Year award and Torii Hunter got his Silver Slugger.  I can never get too much of seeing good things happen for good people.
Two more hits and another extra-base hit for Howie Kendrick.  Dude is en fuego, move him up in the order ASAP.
Los Angeles Angels of FAIL

So how about that situational hitting, eh?  The Halos went 0-for-9 with runners in scoring position.  I really don't need to say anything more than that.
And the winner of the first reliever to get tagged this year goes to Brian Stokes!  Brian, come on down!!!  I don't expect any great things from Stokes this year, but he cost the Angels any chance at making a comeback by getting touched up for three runs in the eighth, putting the game out of reach for the already anemic Angel offense.
Not to be outdone, Frodney brought the gas can to the mound to finish off any and all hope of an Angel comeback.  I really hate being right in saying, way back when he first signed, how quickly he would become my most hated Angel.  Four games into the season and he already has a deathgrip on that role.
Normally the Angels get too aggressive at the plate and damn themselves offensively, but tonight their fatal flaw was strikeouts, with nine of the team on the night and Jeff Mathis being the only starter not to whiff.  Paging Mickey Hatcher.
Angel A-Hole of the Game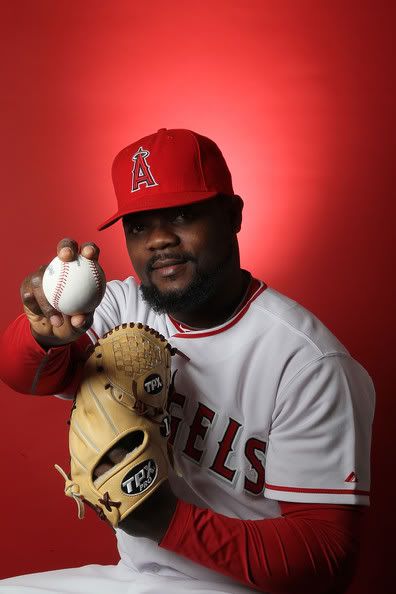 So much to hate, so little time.

I hate to pile on Frodney (actually, that is a lie, I don't mind at all), but his inning of work was just so bad that I can't let it go unpunished.  How a guy with stuff like his can ever get beat up so badly is beyond me.  I just wish we didn't have to deal with him for two years now.