An Angel loss in which Scott was not so great.
Los Angeles Angels of AWESOMENESS

Erick Aybar continues to show some more signs of life.  He added a hit and a walk tonight, but most importantly, he FINALLY stole a freaking base.  He needs to have a lot more nights like this if he is going to stick in the lead-off role.
Godzilla continues to rampage with his third home run of the year.  He reached base in all four at-bats as well.  Too bad such a nice night went to waste.
I almost don't want to say anything because I don't want to jinx it, but the Angel bullpen worked four shutout innings, allowing just one hit (though Matt Palmer did walk three batters).  I almost can't believe what I just wrote.
Who was the Napoli guy doing the catching?  I could have sworn the Angels used to have a guy by that name but I haven't seen him for so long.  I this kid might be worth keeping around though.  After all, he did have a walk and a base hit and didn't do any harm with his defense.  Maybe they should keep him around for a bit and see if he can stick in the big leagues.
Los Angeles Angels of FAIL

What did I say yesterday about pitching around Robinson Cano?  I'm not just whistling in the wind here, Sosh.  Cano tagged Kazmir for two dingers tonight, driving in three runs and giving him two hits in each game of this series.  I know I am just a blogger, but I actually do know a few things, so maybe try listening to me next time, fellas.
I love Bobby Abreu and think he has done some great things for the Halos since he arrived last season but he has one flaw that drives me crazy.  Bob loves to take a walk, even when it is better to try and swing the bat.  Take for example when he struck out looking to end the seventh inning with a runner in scoring position.  The Halos needed a hit there to score a run and start cutting into the lead.  All a walk does is give them another runner, but Bobby watches a borderline strike on a full count because he wanted to take a walk.  That was the sixth pitch of that at-bat and the bat never left his shoulder once.  SWING BOBBY!
I really want to like Howie Kendrick but he just drives me crazy sometimes.  He makes such great contact but has no concept of situational hitting.  Amazingly, he the double play he grounded into in this game was already his third GIDP of the season and he only has 32 plate appearances this season.  Ugh.
I'm not going to beat a dead horse that has already received enough posthumous flogging, but the Angels went 1-for10 with runners in scoring position.  That just can't keep happening.
Angel A-Hole of the Game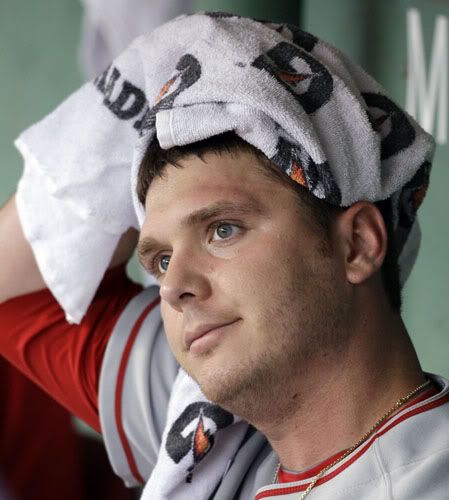 Hey, Scott.  Next time you complain about not needing to go on the DL, try backing it up by pitching well when you come back.

Where to even begin with what a piss poor showing this was for Kazmir.  His command was iffy, his fastball lost its zip by the end of the game (he was working in the high 80s during his last inning), he clearly didn't trust his slider and seldom used it and he was pitching like a chicken by avoiding pitching inside, especially to righties, almost all night long.  I really wanted to have something positive for Kaz to take away from this game, but I just can't find one.  Let's just hope this has more to do with him still working his way back into form and not him still being bothered by his shoulder and just not telling anyone about it.  Sadly, I have a hunch that it is the latter.  Just ask Joe Saunders how well that works out for everyone.