With the first game of Spring Training getting underway tomorrow all I can say is that it is about damn time.  I need to see me some baseball and in a hurry.  Of course, these are still just meaningless pre-season games and the novelty is going to wear off pretty fast, so we better have a back-up plan in place to hold our interest as the spring marches along.  The Angels roster and line-up is fairly well set but that doesn't mean there aren't a few tantalizing position battles to monitor throughout pre-season.  Let's take a look at what battles lay in store and if we can't call a winner before the games even begin:
Nice try guys, but you can't both play third at the same time.

Third Base – Wood vs. Izturis: This is the only real starting job up for grabs in training camp this year and even then it kind of really isn't.  For all intents and purposes, it is Wood's job to lose.  It totally befuddles me that Wood isn't just being handed the job the way Kendry Morales was handed the first base gig last season, but for some reason the Angels are going to make Brandon fight for it.  Apparently three years of terrorizing the minors just isn't enough anymore.  It doesn't help that Maicer Izturis is coming off a great season and Mike Scioscia has no place to put him.  Since Izzy is Sosh's personal favorite, you just know that Scioscia is going to look for every excuse to push Izturis to the top of the depth chart at third.  Wood can win it if: He doesn't crack under the pressure of his first real shot at a major league job.  Izturis can win it if: Wood struggles in the field.  I am actually not worried about Wood's bat in the spring.  He dominated the Cactus League last season at the plate and will probably do the same this season.  However, if he is shaky with the glove, that will give Scioscia the perfect excuse to hand the job to Izturis (not that Maicer is a proven defensive commodity at the hot corner himself).

Second Base – Kendrick vs. Izturis: You would think Howie being the full-time second baseman would be a foregone conclusion, but again, the specter of Maicer Izturis rears its head.  The Kendrick-Izturis platoon worked out pretty well down the stretch last season and it would give Scioscia another excuse to keep Izturis in the line-up (I fully realize I am starting to sound like a broken record, but that is just how much Sosh loves Maicer).  Kendrick can win it if: He just keeps spraying line drives all over the field, giving Mike Scioscia no choice but to keep his bat in the line-up.  Izturis can win it if: Kendrick scuffles mentally at the dish in the pre-season.  It is all about confidence for Howie and if Sosh sees him getting mentally locked up again, then get ready for a whole lot of Izturis.
Catcher – Napoli vs. Mathis: If only we could combine them into one super-catcher named Miff Matholi, getting the best of Napoli's bat and Mathis' glove.  But alas, human cloning and gene splicing is still illegal in most of the world so Scioscia is going to have to make a decision (or find a mad scientist in North Korea to help him out).  Another platoon seems inevitable, but there is a chance either guy could separate himself from the other with a strong spring. Napoli can win it if: He backs up all his talk about being in great shape and having a healthy arm.  Napoli doesn't need to be Mathis' equal on defense, but he can't remain a liability either.  If he is simply average on defense, Napoli's bat will see to it he meets his goal of getting at least 100 starts at catcher this season.  Mathis can win it if: His ALCS performance wasn't a fluke.  Scioscia seems to prefer Mathis on the strength of his defense, but his bat has just been so horrible that he can't lock up the starting job.  However, if Mathis hits anything like he did in the playoffs, it will be him getting 100 starts, not Napoli.
Leadoff Hitter – Aybar vs. the Field: The only line-up spot that is guaranteed right now is Bobby Abreu batting second.  After that, it is all up in the air.  Aybar is the leader in the clubhouse to bat leadoff, but everyone knows he lacks the patience that is usually expected from a leadoff man.  Depending on how things shake out in the spring, Aybar could lose the job to Maicer Izturis or Howie Kendrick. Aybar can win it if: He just shows some smarts in the batter's box during camp.  He doesn't even need to walk a lot, just be selective about which pitches he swings at and making good situational hitting decisions.  Aybar can lose it if: He swings at everything or Maicer Izturis gets a more full-time gig.  Of the two, the latter is the biggest threat since Izturis is unarguably the more disciplined hitter.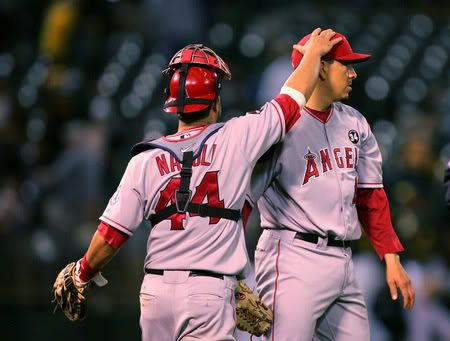 Buck up, Tito.  You weren't that bad last year… OK, you were.

Closer – Fuentes vs. Himself: Brian is definitely going to be listed as the closer on Opening Day no matter what happens during the spring, but whether or not he shares the job remains to be seen and Mike Scioscia has already hinted at as much.  Tito's real challenge won't be coming from Fernando Rodney, Scot Shields or even Kevin Jepsen but rather from himself.  Not only does he have to prove his arm is OK and regain his velocity, but he needs to battle with any mental hangover that comes with his choke job during the ALCS.  Fuentes wins it if: He can hit 94 on the radar gun on a consistent basis and actually pitches aggressively.  Fuentes loses it if: His fastball maxes out at 90 mph and he continues to pitch exclusively to the outside corner.
Ace of the Staff – Weaver vs. Kazmir: Honestly, this is a win-win no matter what happens.  Weaver is the tenured Angel on a career upswing but Kazmir has the pure stuff of a dominant ace.  Either way one of them will have to step up and establish themselves as the leader of the rotation to fill the void created by Benedict Lackey. Weaver wins it if: He impresses Mike Scioscia with his mental fortitude and steps up as a leader in the locker room.  Kazmir wins it if: His breaking stuff looks electric and helps him get through his spring inning in an efficient manner.
The Final Two Roster Spots – Battle Royale: The Angels have two roster spots that aren't totally decided as of yet.  They definitely need another outfielder and then either a 12th pitcher or another position player.  Reggie Willits and Matt Palmer are the front-runners for the two spots, but the Angels will also consider Terry Evans and Bobby Wilson since they are each out of options and would likely be snaked away via waivers if they don't make the major league squad.  Dark horse candidates could Freddy Sandoval and Robb Quinlan who would both give the Angels some bench insurance at the corner infield spots that they would lack otherwise.  I'm not even going to try and breakdown each player's individual chances to win the jobs since these battles aren't going to be decided until the very end of camp and there could even be late entrants into the fray from the likes of Chris Pettit.  Odds are that Reggie Willits gets the last bench spot since he is such a versatile bench player who we know Mike Scioscia loves and that the other spot goes to Matt Palmer seeing how the new trend in the bigs is to carry 12 pitchers.