One little sweep and all of the sudden the Angels' season has a pulse again, barely, but it is still a pulse.  All hope for the Angels' post-season aspirations seemed lost just a few days ago, but now that they have climbed back within 7.5 games of the Texas Rangers, I can't help but dream of a scenario in which they are able to pull of an unlikely comeback within the division.  Looking at the remaining schedule for both teams, that dream actually looks like it could be a reality.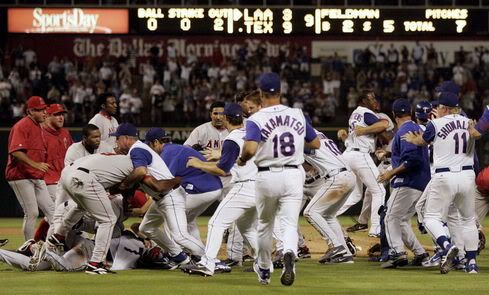 The Angels may be down, but they aren't going out without a fight.

A comeback of this massive proportion isn't going to happen overnight, so we all need to be realistic about this and try and take it all one series at a time.  After all, isn't that the Scioscia way?
(DISCLAIMER: This is me merely pitching a scenario, I actually don't think this will happen, just stating that it COULD happen)
SERIES 1: Angels vs. Toronto; Rangers vs. Boston – The Halos are starting to catch fire and now get to host Toronto, a team they have beaten five of six times already; I smell another sweep.  As for Texas, they need to start feeling some pressure from LAA and dropping two of three to Boston should accomplish that.  AL WEST MARGIN at 5.5

SERIES 2: Angels @ Boston; Rangers @ Tampa – The Angels still haven't beaten the BoSox this year, so this isn't a great draw, but I bet the Halos win one game.  Texas catches the Rays in a cold streak and wins two games in their three-game set.  AL WEST MARGIN at 6.5

SERIES 3: Angels @ Minnesota; Rangers @ Baltimore – The rough roadie continues for the Halos as they drop two of three in Minnesota.  Fortunately, Texas seems to have trouble with Baltimore and splits their four-game series with the O's.  AL WEST MARGIN at 7

SERIES 4: Angels vs. Tampa; Rangers vs. Minnesota – Joe Maddon and the Rays come to town to help Scioscia's boys get back on track, allowing the Angels to win two of three.  Meanwhile, in Texas, their summer choke job begins in earnest as they host the Twins, who they have yet to beat this year, for four games and only manage one win.  AL WEST MARGIN at 5.5

SERIES 5: Angels vs. Baltimore; Rangers vs. Oakland – Baltimore can be trouble for the Angels, but the Orioles should be over their desire to impress the new manager by now, so the Angels ought to be able to return the favor with a three-game sweep of their own.  Texas has played Oakland evenly this year, but they have home field, so they will win the series 2-1, but still drop a game in the standings to the Halos.  AL WEST MARGIN at 4.5

SERIES 6: Angels @ Seattle; Rangers @ Kansas City – The Rangers and Angels both get to play teams that they have owned this season, resulting in matching road sweeps of their foes.  AL WEST MARGIN at 4.5

SERIES 7: Angels @ Oakland; Rangers @ Minnesota – The Halos keep rolling as they head into Oakland to steal two of three.  But this is where things really start to go the wrong way for Texas who can manage just one win during three games in Minnesota.  AL WEST MARGIN at 3.5

SERIES 8: Angels vs. Cleveland; Rangers @ Toronto – The Angels get the gift of three games against the lowly Indians, which they end up sweeping.  Poor l'il Texas ends up having to head to the Great White North, where they have not had any luck this year, but they do muster up a split of a four-game set against the Jays.  AL WEST MARGIN at 2

SERIES 9: Angels vs. Seattle; Rangers vs. New York – Hoping for another sweep, the Halos have a small hiccup and lose one of three to the M's.  Texas continues their tailspin by losing their series against the Yankees 1-2.  AL WEST MARGIN at 1

SERIES 10: Angels @ Cleveland; Rangers vs. Detroit – Another 2-1 series win for Anaheim as the Rangers split two games with Detroit to lose another half game in the standings.  AL WEST MARGIN at 0.5

SERIES 11: Angels @ Tampa; Rangers @ Seattle – The Rangers finally get a little breathing room as the Angels drop two of three to Tampa while Texas goes into Seattle to pick up two wins in a three game series.  AL WEST MARGIN at 1.5

SERIES 12: Angels vs. Texas; Rangers @ Los Angeles of Anaheim – At long last, these two foes get to begin their head-to-head showdown.  LAA has a shot to overtake the Rangers in the division, but they blow the final game of their attempted sweep, leaving them half a game out again.  AL WEST MARGIN at 0.5

SERIES 13: Angels vs. Chicago; Rangers @ Oakland – Suffering from a bit of a hangover, the Angels lose the series to the ChiSox two games to one.  Texas continues treading water on the road by splitting four games against the A's.  AL WEST MARGIN at 1

SERIES 14: Angels vs. Oakland; Rangers vs. Seattle – The Halos and Rangers each gear up for their final weekend faceoff by winning their penultimate series by a count of two games to one.  AL WEST MARGIN at 1

SERIES 15: Angels @ Texas; Rangers vs. Los Angeles of Anaheim – All the pressure is on Texas for this one.  They are on the verge of a historic collapse, but all they need to do is split this four-game set and they are in.  Ultimately, the Rangers buckle under the gravity of the situation, losing two of the first three games before falling apart completely on the decisive final day of the season.  AL WEST MARGIN at -1
JUST ANOTHER HALOS DIVISION VICTORY!!!!
Reviewing my dream scenario here, the Angels wind up going 31-15 down the stretch.  That is a mighty strong finish, but not an outlandish one; a .674 winning percentage is definitely a lofty goal, but something they might be able to pull off considering all the softies on their remaining schedule.  Texas though finishes at a tepid 24-25, a perfectly plausible scenario for them.  So I ask, am I really out of my mind for thinking this could happen?  I think maybe, but also maybe not.