Let's face it, the mood amongst Angels fans hasn't exactly been great lately.  There has been more than enough frustration, anger and general pessimism to go around (and I fully admit that I have been a contributor in that area).  For that reason, I am declaring this week Optimism Week here at Monkey With a Halo!  That's right, for the entirety of this week it is all sunshine, all the time.
To start things off, I am going to atone for my snarky top ten list last week by besting it with a top eleven list of things that you actually can get excited about with this Angel team.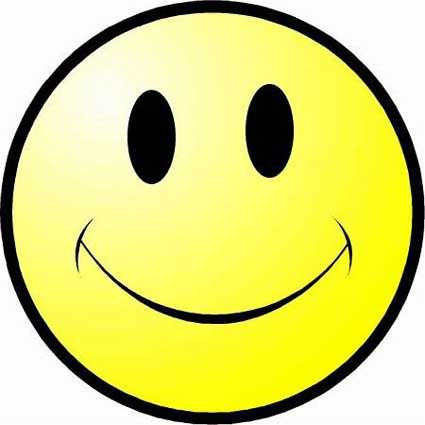 Turn those frowns upside down, Angel fans!

While he may not be doing much with his bat, Peter Bourjos' glove has been every bit as good as advertised, possibly even better.  He currently stands at a UZR/150 of 36.1.  The sample size for that is relatively small, but that rating is out of this world and ranks him right up there amongst the elite defenders in the game.  What is really scary though is that he should only get better as he picks up some pointers from Torii Hunter, who was no slouch in the field himself.  With that kind of defensive prowess in a premium defensive position, the Angels can afford to wait for Peter's bat to adjust to the bigs, which might happen sooner than you think.
Say what you will about the Rangers, but it certainly makes things more interesting and exciting for the Angels to have a legitimate rival for the division title in the AL West.  Pennant races are a lot more fun to watch than having the division be decided by mid-August.
With every day that passes, we get just a little bit closer to the arrival of Mike Trout in Anaheim.
Middle relief was a huge concern for this team almost all season long, but ever since all the kids started coming up from the minors, the tide has changed and the middle relievers have gone from a weakness to a strength.  Jordan Walden, Francisco Rodriguez the Sequel, Michael Kohn and Rich Thompson have all shown flashes of being able to not only be effective big league pitchers, but to potentially dominate.  The return of the killer Angels' bullpen is nearly upon us.
Let's be honest, they really can't be much worse next season.  Just like everyone said the 2009 Angels all overachieved, the 2010 Angels have almost all underachieved.  They've got nowhere to go but up.
The imminent return of Joel Pineiro serves as a reminder that the Angels still have one of the best rotations in baseball.  Jered Weaver is a bona fide ace.  Dan Haren is one as well, but for some bad luck this season.  Ervin Santana isn't quite an aces but he is pretty darn close, plus he has finally figured out how to be more consistent.  Joel Pineiro, while not dominant, is high quality pitcher who can eat innings and give his team a chance to win every single time out.  Then there's Scott Kazmir.  He has had a miserable season, but he is showing some signs of life.  If he can become the pitcher he used to be, the Angels rotation goes from excellent to superlative.
2011 will be the final year of paying for Gary Matthews' awful contract!!!!  The curse can finally be lifted!!!!
The offense in 2011 will be in much better shape based solely on the fact that the team won't waste months of at-bats on Brandon Wood.
Because if we keep saying it enough, Carl Crawford might actually start believing that he has no other choice but to sign with the Angels this off-season.
And because even if we don't Crawford, we still get Kendry Morales back and that is just like signing a marquee free agent.
At least we aren't the Seattle Mariners.