Before the off-season really begins, the Halos need to make some decisions on their own roster.  Who stays?  Who goes?  Time pass a verdict on each of the Angels' players, this time we will finish up with the pitching staff.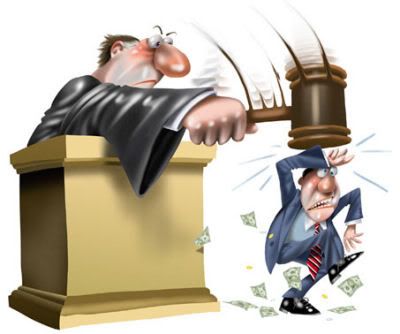 Stand up and be judged, pitchers!

Trevor Bell: Last year's fill-in starter didn't do much to make the Halos believe that he could be a big part of their plans in 2011, but given the relative lack of pitching depth in the organization, Bell could still factor into the 2011 rotation if things don't go to plan. – Verdict = Demoted.  Bell has a chance of hanging around on the MLB roster as a long reliever, but he is probably better suited to return to Triple-A so that he can keep working on his game and stay stretched out for whenever the Angels need a spot starter.

Jason Bulger: An injury plagued season has really hurt Bulger's stock.  He came into this season looking like a key middle reliever, but by the time he was finally healthy again, he could barely get on the mound. – Verdict = Probation.  If Bulger is healthy, he makes the team, if not, he could get cut loose in the roster crunch.  He might survive solely based on the fact that he is out of options but all the young relievers are not.

Bobby Cassevah: The groundball specialist got a solid audition for the Halos late in the year and was usually more good than bad.  He is well down the bullpen totem pole, but Scioscia seemed to have a degree of trust in him during the final month of the season that suggests he might be able to leverage some favoritism into a spot on next year's Opening Day roster. – Verdict = Demoted.  Cassevah is a dark horse to earn a spot in the pen since he offers a different look than the rest of the power pitching relievers the Angels boast, but he also lacks the upside of those pitchers, so he will have to wait patiently in the minors for a spot to open up during the season.

Dan Haren: Haren didn't get much run support, but his results were outstanding after he was brought over via trade.  Some think he could be traded again in order to clear some salary and to replenish the farm system, but does that really make sense. – Verdict = Stay.  Tony Reagins chased Haren for far too long to sell him off again after just a few months in Halo red.  The Angels know they need to add to their offense, but they also know that their starting pitching is what really needs to carry them and that won't happen if they get rid of Haren.

Kevin Jepsen: Jepsen made a lot of progress last season, but some would argue he didn't make enough progress.  Jepsen became a mostly reliable setup man and resolved a lot of his issues with facing lefties, but his inconsistent command continues to hold him back and very likely cost him a chance at getting promoted to closer lat last season and possibly this coming season. – Verdict = Stay.  Jepsen may not be on the fast track to being a dominant reliever anymore, but he is still very useful (and very cheap).  Expect Jepsen to duke it out once again for a setup role.

Scott Kazmir: Kazmir couldn't have been much worse in 2010 and there isn't a great deal of hope for him to turn things around in 2011.  The Halos would probably love to rid themselves of him, but his $12 million salary next season makes him virtually untradeable. – Verdict = Probation.  The Angels will likely give Kaz a shot to prove himself during Spring Training and maybe into the first month or so of the season, but if he continues to get lit up like a Christmas tree, Arte Moreno won't hesitate to eat Scott's salary and cut him loose.

Michael Kohn: The rookie tore through the minors in 2010 and earned a call up to the majors.  Kohn showed a lot of promise, but he also had big time problems with walks. – Verdict = Stay.  Kohn isn't going to improve much by mowing down Triple-A batters again, so, barring a Spring Training disaster, Kohn should be firmly entrenched as a middle reliever for the Angels next season.

Matt Palmer: The feel-good story of 2009, Palmer was mostly ineffective and/or injured in 2010 and found himself toiling in the minors most of the season, leapfrogged on the depth chart by numerous younger pitchers. – Verdict = Demoted.  I actually like Palmer and think he could be useful as a swingman in the bullpen, but like so many others, he is likely to get the short end of the stick because he isn't young and full of potential.

Joel Pineiro: A proven bargain late in free agency, Pineiro was a solid performer but did miss several weeks due to injury. – Verdict = Stay.  The oblique injury Pineiro suffered didn't appear to have any lasting effects once he returned to action in September, so he should be good to go.

Fernando Rodney: Few players had a more up and down season than Rodney.  He first appeared to be a quality setup man but devolved into a mediocre one before getting a battlefield promotion to closer where he was an unmitigated disaster. – Verdict = Demoted.  Not all the way to the minors, but Fraudney definitely won't be the closer anymore.  I get the feeling the Angels had hoped for him to be the 2011 closer when they first signed him, but after the way he finished this last season, they can't possibly trust him at the end of games again.  Expect the Angels to bring a more proven veteran option with Rodney sliding back into the setup mix with Jepsen and Walden.

Francisco Rodriguez: The other K-Rod was one of the more unheralded surprises of the Angel bullpen, providing some much needed stability in middle relief.  However, Rodriguez struggled with consistency and struggled mightily the last few weeks of the season. – Verdict = Waiting List.  Rodriguez seems to have Scioscia's trust, but there are only so many bullpen spots to go around and Rodriguez still has minor league options left, so he is probably 50/50 to open the season with the big league club.

Ervin Santana: Yes, that's right, that was a consistent Ervin Santana you saw this most recent season.  With two years and over $20 million left on his contract, the Halos either have to be feeling good about their investment or maybe they are considering cashing out on Santana while his value is high. – Verdict = Hold.  I suspect the Halos will quietly listen to offers for Santana if it can net them a quality run producer for the lineup.  However, given the dearth of in-house replacements for the rotation, it would have to be a pretty good offer, making it more likely that Santana sticks with the Angels.

Scot Shields: Once the top setup man in baseball, Shields returned from injury hoping to recapture some of his old magic, but ended up looking more like he was cursed. – Verdict = Retire.  It will be sad to see him go, but it is pretty obvious that Shields doesn't have much left to offer.

Rich Thompson: After yet another dominant season in the minors, Thompson and his new cut fastball finally achieved some success in the majors, though he didn't get too many opportunities to show what he could do. – Verdict = Probation.  Chopper's career is at a crossroads.  He is out of options (I think) and Scioscia has never really been a big fan of his, so he is going to have to earn a bullpen spot out of Spring Training otherwise he could find himself hitting the waiver wire before the regular season begins.

Jordan Walden: Yet another bright up-and-comer from the minors in 2010, the fire-balling rookie looked every bit like a dominant reliever and could force his way into the closer conversation depending on how free agency goes for the Angels. – Verdict = Stay.  It isn't like Scioscia to just give a youngster a big time promotion, so Walden is likely going to have to wait at least a full season before being named closer.  He'll have to bide his time and prove himself more in a setup role, lest he turn out to be the next Jose Arredondo.

Jered Weaver: Coming off a Cy Young caliber season, Weaver is bound to get a huge raise in arbitration.  The Angels might try and talk about an extension with Weaver, but since he is represented by Scott Boras, that seems pretty unlikely. – Verdict = Stay.  The Angels might have to consider shopping Weaver before he hits free agency, but for now, the Halos will keep him around to lead the rotation.  However, if the Angels aren't in contention by the trade deadline, don't be surprised if his name starts coming up in trade rumors.