Before the off-season really begins, the Halos need to make some decisions on their own roster.  Who stays?  Who goes?  Time pass a verdict on each of the Angels' players, starting with the position players.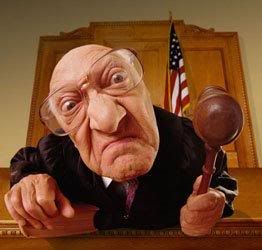 It is judgment day!

Hank Conger: Conger wasn't supposed to be ready this early, but he looked pretty good during his September audition, both at the plate and behind it.  Another few months of seasoning in the minors wouldn't hurt him though, especially since he is still a work in progress defensively. – Verdict = Stay.  He may still need some polish, but his offensive potential should give the Angels enough reason to let him start the season as part of the catcher rotation.

Jeff Mathis: Mathis had one of his worst seasons ever (and that is saying something).  However, he is still one of Scioscia's personal favorites, no matter how badly he performs.  The deciding factor here could be Mathis' arbitration case.  The Angels supposedly have no financial limitations, but that doesn't mean they are going to freely overpay Mathis. – Verdict = Stay.  I know, I hate it too, but that is my hunch here.  With Conger on board, the Halos will want a veteran for him to split time with and Mathis is a perfect match since his defense isn't much of a question.  As for that arbitration case, I expect the Angels to threaten him with a non-tender in exchange for him agreeing to a reasonable salary figure.

Mike Napoli: Napoli finally got all the at-bats he wanted, but wasn't as impressive as everyone had hoped.  Naps may have increased his value though now that he can play a little bit of first base.  Even with all of his power and his new position flexibility, Mike Scioscia still doesn't seem to be a huge fan of Napoli. – Verdict = Trade.  Naps is the odd man out of the catcher rotation, especially once he gets a hefty raise in arbitration.  Scioscia just doesn't like him enough to promise him the amount of playing time commensurate with the potentially $6 million salary he will be earning.

Bobby Wilson: As a third catcher, Wilson didn't get a lot of playing time, but he acquitted himself quite nicely whenever given the opportunity.  The Halos definitely like Wilson, but do they like him enough to keep him around as a third catcher for a second straight season? – Verdict = Stay.  Considering that Conger is both unproven and injury-prone and that Jeff Mathis, well, sucks, the Angels will want to make sure they have enough catcher depth to survive any injuries or prolonged slumps.

Erick Aybar: Aybar couldn't possibly have been more disappointing last season, but he is still the best shortstop on the roster and someone the organization still thinks pretty highly of. – Verdict = Stay.  The Angels are going to press Aybar to step his game up in 2011, but they aren't about to do anything drastic and replace him.

Alberto Callaspo: Callaspo was a bust as a mid-season trade acquisition, but would they really cut bait on someone they gave up legit prospects for after just half of a season? – Verdict = Stay.  Another unpopular choice, but at least Callaspo offers some versatility and should be pretty cheap since he will only be entering his first year of arbitration.  That should mean Alberto is cheap enough to stay on as a starter or as a reserve if the Halos choose to upgrade at third base.

Kevin Frandsen: Frandsen was a nice little pick-up off of the waiver wire, but he is really nothing more than end of the bench fodder with a pretty low ceiling. – Verdict = Non-tender.  Frandsen would have had a chance at staying, but he is arbitration eligible this off-season and isn't worth anything more than the league minimum, especially since he is so redundant given the presence of Callaspo and Izturis.

Maicer Izturis: Izturis had a chance to play quite a bit this season given all the struggles of the infield, but didn't have an opportunity to take advantage since he made three different trips to the disabled list.  His absence was a big reason that the Angels' depth dried up on them so quickly and unexpectedly. – Verdict = Stay.  Izturis may be injury-prone, but he is still Scioscia's teacher's pet.  Besides, he has little trade value thanks to his fragility.

Howie Kendrick: One one hand, Kendrick finally avoided the injury bug and played a full season for the first time in his MLB career.  On the other hand, Kendrick's production was the worst of his career, even the season when he got demoted to the minors. – Verdict = Trade.  The Angels keep saying that Howie was one of the few guys who performed up to expectations, but the numbers don't really bear that out.  That makes me think that the Halos are propping up Kendrick to be traded.  Expect them to to quietly shop Howie this off-season, leaving Alberto Callaspo and Maicer Izturis to share the second base gig.

Mark Trumbo: Trumbo crushed the ball at Triple-A but was never given a real shot at filling in for the injured Kendry Morales.  Trumbo doesn't have an obvious role to play on the big league roster, but he also doesn't have much left to prove in the minors. – Verdict = Trade.  I've long felt that the Halos didn't let Trumbo play much, even after being called up in September, in order to prevent him from being exposed as a fraud, thus damaging his trade value.  With his trade value protected, expect him to be shopped hard this off-season so that he doesn't have to return to Salt Lake and potentially damage his worth.
Brandon Wood: Once the crown jewel of the Angel farm system, Wood just finished putting together one of the worst offensive seasons in the modern history of baseball.  There is no way the Angels can count on him to play any kind of role in 2011, but would they really cut him lose? – Verdict = Gone.  The Angels will probably try and find some kind of minor deal so that they can get a little bit of a return for Wood, but ultimately, the Halos are probably just going to have to waive him since he is out of options.

Bobby Abreu: Bobby was a savior for the 2009 Angels, but he was a perfect example of the Halos' failures in 2010.  It certainly seems like old age is catching up with Abreu, but he is still under contract for another season, so the Angels might be stuck with him no matter what. – Verdict = Move.  Abreu won't be leaving the team, but he will be moving positions.  The Halos have been showing a renewed commitment to defense, an area in which Abreu really degraded the last two seasons.  Whether he likes it or not, Abreu is going to have to set his glove aside and accept his role as the teams new full-time designated hitter.

Peter Bourjos: Bourjos capitalized on a breakout 2010 minor league performance to earn a promotion to the big leagues.  Installed as the new starting center fielder, Bourjos proved to be an electric defender, but his .204 average left a lot to be desired and may be too meager for the offense-starved Halos to live with for an entire season. – Verdict = Stay.  Bourjos' offense may be weak, but his defense is too amazing for him to be put on the backburner already.  Expect Bourjos to be patrolling center for the Angels on Opening Day 2011.

Torii Hunter: Hunter was the only Angel who didn't disappoint last season and he even had a big year in the leadership department when he willingly moved to right field to make room for Peter Bourjos. – Verdict = Stay.  Hunter was and still is the heart and soul of the team.

Juan Rivera: After a resurgence in 2008, Rivera had a desurgence (I don't care if that isn't a word) in 2009, falling apart at the plate and becoming a major liability in the field. – Verdict = Stay.  I know, that sounds weird, but I don't think the Angels have another choice.  Rivera is going to make $5.25 million in 2011, so I can't imagine anyone willing to take him in a trade, especially since he really should just be a DH at this point.  For the Halos, Rivera will end up acting as an overpaid insurance policy for the corner outfield and first base.

Reggie Willits: Reggie's patience finally paid off.  After shuttling between the majors and minors the last few years, Willits got to stick in Anaheim all season long and did a fine job of serving as the team's fifth outfielder, performing well as a defensive replacement and even holding his own at the plate when given a chance. – Verdict = Stay.  There is a slight chance Willits will get non-tendered since he is heading into his second year of arbitration, but he shouldn't get enough of a raise to force the Halos to cut him loose.

Hideki Matsui: Matsui will generally be regarded as a bust in 2010, but his final slash line of .274/.361/.459 really isn't all that bad thanks to a late season surge from Godzilla. – Verdict = Gone. That surge was great and all, but the Halos aren't going to be duped into bringing Matsui back for another go-round.  The Angels will gladly let Matsui walk away via free agency.

Kendry Morales: Broken leg = lost season.  Not much else left to say beyond that. – Verdict = Stay.  K-Mo's tragic injury was awful, but it isn't going to do anything to change his status with the ballclub.