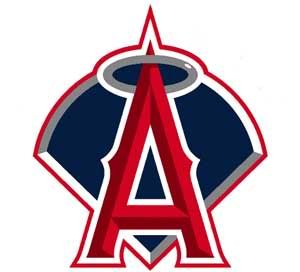 VS.
Counting down to the Angels' series against the Orioles in which we admit that hope is a good thing (and hopefully Peter Bourjos is too).

Los Angeles Angels of Anaheim (54-53) @ Baltimore Orioles (32-73)

Game 1 Starters: LAA – Trevor Bell (1-2, 6.46 ERA)  BAL – Jeremy Guthrie (4-11, 4.23 ERA)
Game 1 Info: 4:05 PM PT TV-Fox Sports West; Radio-ESPN Radio, KLAA 830 AM, KWKW 1330 AM
Game 2 Starters: LAA – Ervin Santana (10-7, 3.65 ERA)  BAL – Brian Matusz (3-11, 5.46 ERA)
Game 2 Info: 4:05 PM PT TV-Fox Sports West; Radio-ESPN Radio, KLAA 830 AM, KWKW 1330 AM
Game 3 Starters: LAA –Dan Haren (7-10, 4.42 ERA)  BAL – Jake Arrieta (3-3, 5.47 ERA)
Game 3 Info: 4:05 PM PT TV-Fox Sports West; Radio-ESPN Radio, KLAA 830 AM, KWKW 1330 AM
5. The Peter Bourjos era is officially upon us, but the question is how will Scioscia use him?  The Angels have nothing to lose by running him out there and seeing what he can do, but that means benching Rivera, Matsui or Abreu, not that any of them are exactly impressing the heck out of anyone right now.  The bigger issue though is that Mike Scioscia has generally seemed reluctant to give loads of playing time to unproven rookies (just ask Brandon Wood).  On the flip side, Sosh seems pretty fed up with the shoddy corner outfield defense, so he might just make an exception to his rule and hand the keys to left field to Bourjos as soon as he arrives.  My guess is that Sosh will strike a compromise with himself and have Bourjos sit the first game of the series and then let him make his debut against the left-handed Matusz with Matsui being benched.  If he likes what he sees, Bourjos should also have a good shot at playing the series finale as well in place of Juan Rivera to provide some help to the more flyball-prone Dan Haren.
4. There aren't a lot of situations where a team MUST pull off a sweep, but this is one of those times.  The Angels need every win they can possibly get in order to keep their playoff hopes afloat, and giving away even one game in a series against the worst team in all of baseball would be a huge wasted opportunity.  If the Halos can't emerge from this series with three wins, I don't see how they could possibly think they can chase down the Rangers, much less make noise in the post-season thereafter.  A sweep could be a little more challenging to pull off though as the Orioles are sure to come out guns blazing as they all try and impress their brand new manager Buck Showalter who was just hired yesterday.
3. I haven't been particularly impressed by Trevor Bell this season, but it seems like we are stuck with him in the rotation for better or worse right now.  He got bombed in his only start this season (which was last week against Texas), but now he might have a little peace of mind knowing that he isn't necessarily pitching for his life anymore.  Getting to face the Orioles should only help him settle in as the Baltimore offense can be generously described as pitiful.  If the Angels are going to close the gap on the Rangers, they need Bell to get his act together starting today.
2. Maybe the third time will be the charm for Dan Haren, who is still seeking his first win as an Angel.  Danny has been wildly unlucky in his first two turns on the mound for LAA, but he has always pitched very well, so if he can just keep his chin up, he should be able to make mincemeat of the Oriole lineup to get that win… assuming the Angel batters hold up their end of the bargain, which isn't exactly a sure thing.
1. I think part of the reason everyone is so excited about the promotion of Peter Bourjos is that he represents a multifaceted hope.  Hope that the Halos have a young, exciting player to lead them into the future.  Hope that this kid can come in and provide a spark to the Angel roster.  Hope that the Angels will turn over every stone to find some way to overtake the Rangers.  Hope that the season isn't already over in the first week of August.  Hope that this team can be fun to watch again.  That seems like a lot of pressure to put on a rookie, but I don't think anyone actually expects him to deliver the world, so he really can't fail.  Hope, it's a good thing.