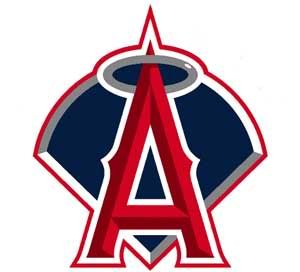 VS.
Counting down to the Angels' series against the Athletics in which two rivals begin the race for second place begins (assuming either team actually cares).

Los Angeles Angels of Anaheim (65-69) @ Oakland Athletics (65-68)
Game 1 Starters: LAA – Scott Kazmir (8-12, 6.34 ERA)  OAK – Gio Gonzalez (12-8, 3.23 ERA)
Game 1 Info: 7:05 PM PT TV-Fox Sports West; Radio-ESPN Radio, KLAA 830 AM, KWKW 1330 AM
Game 2 Starters: LAA – Jered Weaver (11-10, 3.12 ERA)  OAK – Trevor Cahill (14-6, 2.82 ERA)
Game 2 Info: 1:10 PM PT TV-Fox Sports West; Radio-ESPN Radio, KLAA 830 AM, KWKW 1330 AM
Game 3 Starters: LAA – Ervin Santana (14-9, 4.05 ERA)  OAK – Vin Mazzaro (6-7, 4.05 ERA)
Game 3 Info: 1:05 PM PT TV-KCOP; Radio-ESPN Radio, KLAA 830 AM, KWKW 1330 AM
5. Let the race for second place begin!!!!  Umm, OK, it really isn't that exciting, but at least it is something to do, right?  The Angels enter the series just one half game behind the A's so this heated(?) battle is really only just beginning.  Of course, this assumes that either squad actually cares.  The Halos may very well not care at all since second place is just a disappointment for them whereas finishing ahead of the Angels would be a real accomplishment for the A's.
4. We are on the verge of a true travesty of justice.  With a loss in this series, Jered Weaver, despite his fantastic season thus far, will be a .500 pitcher.  I mean, really, what's the point of having an ace pitcher if you aren't going to help him win any games?  I know the Angel hitters have some kind of secret vendetta preventing them from giving Dan Haren any run support, but what did Weaver ever do to deserve this?
3. The Scott Kazmir Embargo continues, though I must say I actually am tempted to break my self-imposed ban considering the history involved.  Let us not forget that it was the Athletics that bombed Kaz for 13 runs back in early July, prompting the Halos to place him on the disabled list afterward with a bad case of "I suck so bad that I need to pretend my shoulder hurts"-itis.  That gives Friday's game some real train-wreck potential and I don't know if I will be able to prevent myself from rubbernecking to watch the carnage.
2. You know it just isn't the Angels' season when they are even getting beaten out for news stories.  Just when baseball was getting themselves all worked up over Jordan Walden's impressive heater, the Reds had to go and call up Aroldis Chapman to completely and totally steal Walden's thunder.  And just for a little salt in the wound, Chapman could have been an Angel if not for Cincy barely outbidding them.
1. Torii Hunter hasn't driven in a run since August 6th, but I predict that his cold streak will finally come to an end this series.  And not only will Hunter finally get that elusive RBI, he'll even smack a homer in the process just to make sure there is no doubt about it.