VS.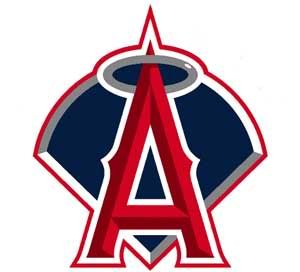 Counting down to the Angels' series against the White Sox in which we realize the waiting is the hardest part.

Chicago White Sox (80-72) @ Los Angeles Angels of Anaheim (75-77)
Game 1 Starters: CWS – Freddy Garcia (11-6, 4.88 ERA)  LAA – Joel Pineiro (10-7, 4.13 ERA)
Game 1 Info: 7:05 PM PT TV-Fox Sports West; Radio-ESPN Radio, KLAA 830 AM, KWKW 1330 AM
Game 2 Starters: CWS – John Danks (13-11, 3.80 ERA)  LAA – Scott Kazmir (9-14, 5.84 ERA)
Game 2 Info: 6:05 PM PT TV-KCOP; Radio-ESPN Radio, KLAA 830 AM, KWKW 1330 AM
Game 3 Starters: CWS – Gavin Floyd (10-13, 4.08 ERA)  LAA – Jered Weaver (13-11, 2.99 ERA)
Game 3 Info: 12:35 PM PT TV-Fox Sports West; Radio-ESPN Radio, KLAA 830 AM, KWKW 1330 AM
5. And now we play the waiting game.  The Angels are nine games back with ten games to play, meaning that all it will take to officially end the Angel season is either two Halo losses, two Ranger wins or one of each.  The question is when will it happen?  I know that the Angels don't have a chance at pulling off a miracle and winning the division, but I think there would somehow be some sort of sense of closure when the Angels are finally mathematically eliminated.
4. Hey, remember at the trade deadline when the Angels were rumored to be interested in trading for Manny Ramirez?  Yeah, well, the White Sox eventually wound up being the ones to trade for him and it hasn't exactly worked out so well.  ManRam has had 55 at-bats for the White Sox and fanned in 19 of them with just one home run to his name.  Consider the bullet dodged, Angel fans.
3. I was kind of hoping that a return to the starting lineup and his natural shortstop position would somehow get Brandon Wood going (I'd say "again" but that would imply he was ever doing anything good in the first place).  Ummm, not so much.  Dick Wood hasn't done anything at the plate, save for his game-winning homer, going 3-for-32 in the month of September, which is actually even worse than he has been previously in this season, which is actually pretty amazing that he somehow managed to hit rock bottom and then tunnel his way through the rock into some sort of subterranean level of sucktacularity.
2. I'm kind of over it at this point, but the question needs to be asked: will Trumbo finally get a start this series?  My gut says that if it hasn't happened by now, then it is never going to happen, but the fans clearly want to see what Trumbo can do.  Why not give it a try?
1. The Angels' marketing department might have a little bit of egg on their face Friday night if the Halos lose.  Friday is the night that the team is kicking off their 12-month long 50th anniversary celebration, replete with a new logo and uniform.  But if they lose and Texas wins, the Angels will be officially mathematically eliminated from post-season contention.  Not a great way to start the celebration.