Let the games begin!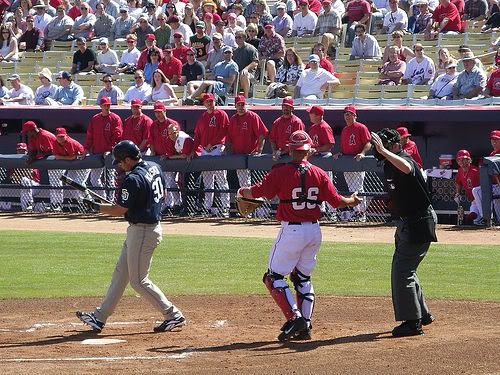 'Nuff said.
The Angels get their spring started officially today at 2:05 PM against Chicago White Sox.  Joel Pineiro draws the start for the Halos but the rest of the line-up is expected to mostly include the roster scrubs.  It may be a game full of guys with a bunch of crooked numbers on their back and with names we have never heard of and probably won't ever hear again, but who gives a crap?  It's BASEBALL!!!!!!
Now I just have to hope that my co-workers don't think I am weird when I am sitting at my desk during the game, listening to it on the radio with a mouth full of sunflower seeds, wearing my red Angels jersey.
UPDATE (10:33 AM)
The line-up is posted and is surprisingly full of regulars:
Erick Aybar, SS
Bobby Abreu, RF
Torii Hunter, CF
Juan Rivera, LF
Maicer Izturis, DH
Howie Kendrick, 2B
Mike Napoli, C
Brandon Wood, 3B
Robb Quinlan, 1B
A few thoughts:
Izturis hitting fifth?  I know it is spring, but c'mon Sosh!
Quinlan getting an early start certainly shows that he is a front-runner for one of the last bench jobs.  Freddy Sandoval and Terry Evans should be pretty pissed.
This line-up looks pretty close to what we should regularly expect with the exception of where Matsui and Morales will hit, which should be an interesting development to track.