Something has been concerning me about the Angels lately.  It isn't a major concern, but rather one of those small lingering questions in the back of my mind.  Spring Training is on the cusp of getting under way, but for some reason the Angels still have two spots open on their 40-man roster.  This might seem like something trivial, but when I do the roster math, it just doesn't add up (either that or my sixth-grade geometry teacher was right and I suck at math).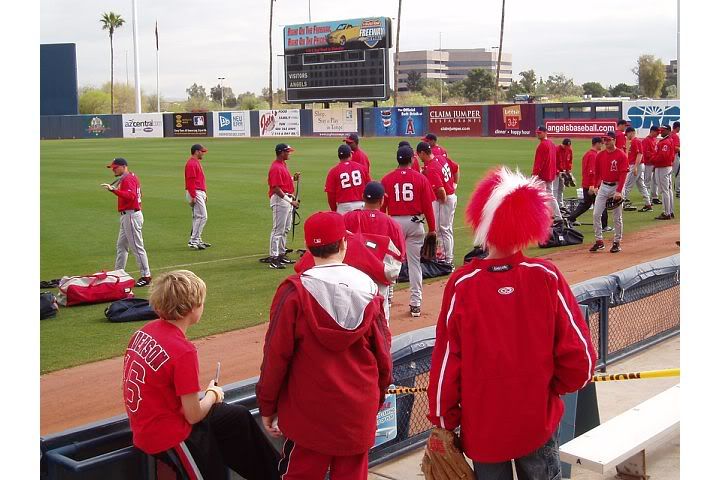 Sorry kids, there are two roster spots left, but the Angels aren't THAT desperate.

The only real point of adding anyone to the 40-man roster at this stage of the game is if the Halos are adding that person to the Opening Day 25-man roster as well.  That's all find and good, but almost all the 25-man roster spots in Anaheim are spoken for.  They've already got eleven pitchers and twelve hitters locked in for active roster slots, leaving just two bench spots.  With those spots, the Halos can carry another reliever and one position player or just add two position players.  Based on the totally uninspiring list of non-roster invitees that the Angels are bringing to camp, those two spots are almost assuredly going to be filled by guys already on the 40-man roster.  The only non-roster guy with a shot is Robb Quinlan.
Now, adding Quinlan to the roster could definitely use up on of the open slots, but it really won't since carrying Q on the active roster means that Bobby Wilson and/or Terry Evans won't make the team and must thus be dropped from the 40-man roster, leaving the Angels at just 38 players still.  And therein lies the rub.  Thus there are only two plausible baseball reasons for keeping two slots vacant:
The Angels are scared to death of more injury issues and want to keep maximum roster flexibility option should a player or two (or twelve if the Angels bad injury luck from 2009 carries over to this year) opens the season on the DL.
Despite being seemingly satisfied with their roster, the Angels are still kicking around trade and free agency ideas that would necessitate them having to keep room on the roster open.
The choice behind door #2 is infinitely more tantalizing to think about, but seeing how the Angels' have pretty much maxed out their payroll as it is, I can't imagine them spending more cash to fill out the roster unless they have something really big in mind.  With the season right around the corner, the odds of any major moves are pretty slim.  So I think we can go ahead and eliminate option #2, though it certainly pains me to do so.  Cooking up convoluted trades and free agent signings is so much more fun than what I am about to suggest.
Option #1 seems like it just good baseball sense, but it also indicates to me something much more nefarious.  This is purely speculation, but I have a hunch that there are a few Angels on the 40-man roster with current health concerns that the team is, well, concerned about.  We aren't just talking about someone suffering a minor little boo-boo because if that were the case, the team could easily use someone already on the 40-man roster while the injured player recovers.  We are talking more about someone who might be facing something serious and will thus need a more long-term replacement.  Take for example a starting pitcher with a poor injury track record like say Joel Pineiro or Scott Kazmir or Ervin Santana or Joe Saunders.
Oh crap.
I fully admit that this is probably my imagination running wild because I am so desperate for some baseball action, but you have to make sense that my little theory makes sense, doesn't it?