The Angel front office got a big and surprising shake up earlier this week when the team announced that scouting director Eddie Bane wouldn't be coming back next season.  With a farm system that has recently started producing some quality talent with more on the way, did the Halos make a mistake?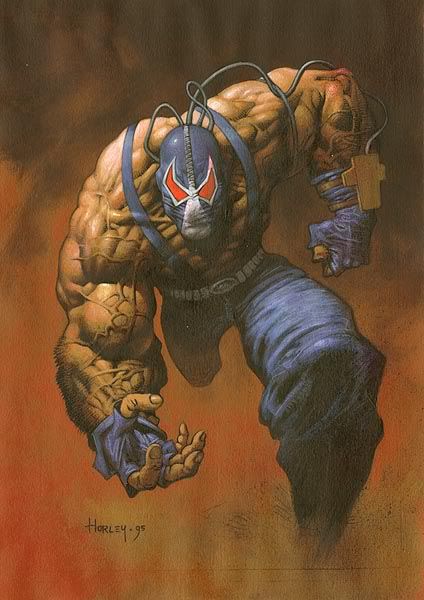 Umm, I couldn't find any pictures of Eddie Bane, so I am going with the comic book villain Bane instead.  Sorry.
You Make the Call! Did Eddie Bane deserve to be fired?
Normally this is a mere multiple choice, but I think this topic requires a little context.  Bane's primary job is to scout high school, college and international talent and run the team's draft.  As such, let's take a look at some of the talent Bane has brought into the Halo farm system during his tenure:
2004: HITS = Jered Weaver (arguably a pick he lucked into due to financial constraints of the teams ahead of the Angels), Nick Adenhart (14th round), Mark Trumbo (18th round); MISSES = Pat White (4th round pick, never signed), Luis Rivera (5th round, never made it out rookie ball),
2005: HITS = Peter Bourjos (10th round); MISSES = PJ Phillips (2nd round, still in Double-A), Brian Matusz (4th round, did not sign)
2006: HITS = Hank Conger (1st round), Jordan Walden (12th round); MISSES = Russell Moldenhauer (3rd round, never signed, eventually slipped to 24th round)
2007: HITS = Trevor Reckling (8th round); MISSES = Matt Harvey (3rd round, never signed), Trevor Pippin(4th round, hasn't played since 2008)
2008: HITS = Michael Kohn (13th round); MISSES = Zach Cone (Compensation B round, never signed), Khiry Cooper (5th round, never signed)
2009: HITS = Mike Trout (1st round, arguable the best prospect in baseball), Tyler Skaggs (Compensation A round, center piece of Dan Haren trade); MISSES = Josh Spence (3rd round, never signed, eventually drafted in 9th round)
2010: too early to tell, but he did draft Kaleb Cowart and get him signed, which was no sure thing.
Internationally, Bane did some fine work too, but it is hard to document since we have no real idea who he missed out on, though he did sign top prospects Jean Segura and Alexi Amarista (as well as Kendry Morales, but given that nature of that contract, the Angel GM at the time, Bill Stoneman, deserves at least partial credit there).
So, after all that, did Bane do a bad enough job to get fired?
A) Heck yes!  I see a lot of unsigned high draft picks, despite the Angels having a lot of money.  Nor do I see anyone (but Weaver, who doesn't really count for Bane) who has turned into even an All-Star caliber player yet.
B) Hard to say.  Bane has recently had many of his picks reach the majors, but none of them have yet had a chance to show what they can really do.
C) Hell no!  The man drafted Mike Trout!  Conger is just coming into his own and Walden looks like a lights out closer.  He also got a bit of a steal in Peter Bourjos.  And did I mention that he drafted MIKE FREAKING TROUT!!!  Say what you want about the slow rate or return, the Angel farm system is really starting to bare fruit again.
D) Bane's draft record isn't the problem, it is his philosophical clash with Reagins.  Classic old school scouting versus new school analysis.  It is like these guys never read Moneyball.  Bane may have been a good scouting director, but he wasn't good enough to overcome that philosophical void.
SECRET OPTION E) Fire Bane?  HA!  Are you kidding me, the team is brimming with young talent right now.  The problem is the free agent and trade moves Reagins is making.  Tony should have been the one to get the ax.