Right about now, all the players the Angels placed on waiver earlier this week should be either coming through clean or with a specific team identified as the claimer.  That means it is trade time!  With just a few days before the end of August, Tony Reagins is bound to busy trying to make some last minute deals to get some value for his veteran players.  Will it be a full-out fire sale or just one minor move?  It is hard to believe the Halos won't make at least one trade in the coming days, but who will it be?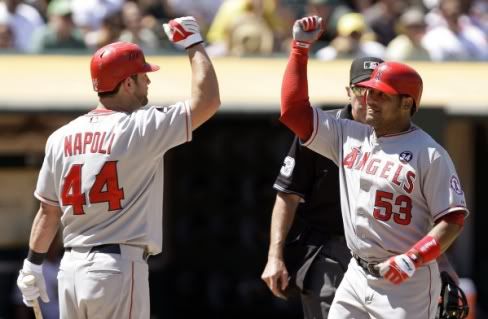 You Make the Call! Which Angel is most likely to be traded before the end of August?
A) Mike Napoli.  He is easily the Angel will the most trade value right now and any number of contenders would love to add him as a catcher, first baseman or DH (or all of the above).  But that might be the problem.  Naps might have so much worth that the Halos would be better served to wait until the off-season to trade him since they could get a better return as they would have more leverage than they do now thanks to the complications of the waiver system.
B) Brian Fuentes.  Tito started pitching his ass off just in time to give himself loads of trade value.  Not one team out there would turn down a chance to acquire a quality lefty reliever for the post-season, but will he make it through waivers?  Some team could choose to make a claim on him solely to block a potential deal for another team they are competing with, knowing that the Angels aren't the kind of club to just let him go for the sake of saving a few bucks.  There is also a real chance that the Angels might now want to trade Fuentes at all, instead keeping him around so that they can talk him into re-signing for next season at a discount.
C) Juan Rivera.  Juan doesn't seem to be in the Angels' future plans thanks to his down year and they might love the chance to clear his 2011 salary off the books, but does he have enough value for any team out there to be willing to take on that salary?  Maybe now that he can play first base, he'll have enough versatility to make himself look like an attractive bench player for a playoff-bound team.
D) Bobby Abreu.  His name keeps getting thrown out there, but is there really a taker?  Bob still has a pretty sizable amount of money due to him, so only teams with deep pockets would even consider trading for him.  His veteran leadership and post-season experience could come in handy though.
SECRET OPTION E) None of the above.  These are the Angels!  They don't ever throw in the towel.  They aren't going to trade players away while they still haven't been mathematically eliminated from the playoff race.  Take no prisoners and never say die!!!