With the minor league seasons rolling over into their second halves, now seems like a good time to check out some of the noteworthy (good or bad) performances in the Angels' farm system.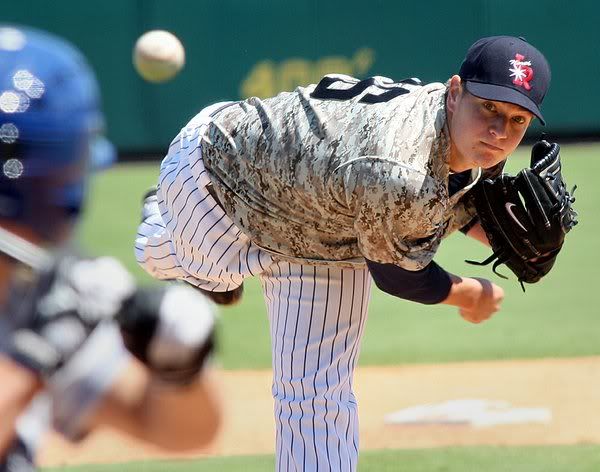 Guy's named Garrett are always awesome. It is just science.
Salt Lake Bees (AAA)
Alexi Amarista, 2B – Way to go, Angels, you broke Amarista. The Halos surprised some by promoting Amarista to the bigs after he got off to a torrid start in his first Triple-A season. Alexi had posted a 1.156 OPS in 55 April at-bats before getting called up. Amarista didn't do much in Anaheim and was thus returned to the minors once the Halos got healthy, but it looks like that trip to the majors ruined Amarista's confidence, completely undoing any development he had to start the year. Amarista has now been back in Salt Lake for 75 at-bats and his slash line over that stretch is a pitiful .200/.268/.253. I'm guessing he won't be getting the call the next time Maicer Izturis and Angel infielder lands on the DL.
Andrew Romine, SS – Since the Halos saw fit to have Romine up for a cup of coffee in the majors recently as well, I figured it was only fair to take a look at him too. Romine has climbed through the Angel farm system on the strength of his glove, which we got to see a bit of during his brief cameo in Anaheim, but it doesn't seem his bat will ever play well enough to make him anythin more than a fringe bench talent. Salt Lake is a hitter's haven, yet Romine has managed only a .261/.317/.332 line over 61 games.
Matt Palmer, SP – Every so often, fans still raise the idea of Matt Palmer being part of the Angel rotation. This is a bad idea. I don't care how thin the Salt Lake air is, but a 7.95 ERA is simply Kazmirian. No thanks, Matt.
Kevin Jepsen, RP – I still can't believe I'd have to include a profile in a minor league update. I REALLY can't believe that the profile is going to be a negative one. Kevin has once again been returned to Triple-A and he has a lot of work to do if he wants to avoid Salt Lake becoming his permanent address. To his credit, Jepsen has shown signs of figuring out his control problem, walking just six batters in 22.2 minor league innings. However, something else is amiss. Kevin is hittin the strike zone, but he isn't missing bats, having only fanned 13 batters over that same span. I don't know if his issues are physical or mental, but if Jepsen doesn't get back on track soon, he is a prime candidate to be non-tendered this off-season.
Arkansas Travelers (AA)
Ryan Mount, 2B – Mike Trout isn't the only Angel prospect putting up a .900+ OPS in Double-A. Mount has been killing it in Arkansas this season and finally seemed to be breaking out and positioning himself for a promotion. This is Mount's third season in Double-A, so he had to be feeling like he finally busted through the wall, but the poor guy just couldn't catch a break. Earlier this month, Mount was ruled out for the rest of the season with a torn tendon in his foot. Maybe next year, Ryan.
Luis Jimenez, 3B – Lucho has been considered a boom-or-bust prospect and right now, he is booming. Fresh off a Player of the Week award, Jimenez has pumped his slugging percentage up to .521 with 11 homers. That is even more impressive when you consider that the Traveler's play in one of the worst hitters' parks in the minors. Jimenez still needs to draw more walks, but if he can keep up his average and power, expect him to rocket up the Angel top prospect lists.
Garrett Richards, SP – I've been predicting Mike Trout moving up to Triple-A in the next few weeks, but he might have someone to sit next to on the plane. Richards is arguably the team's top pitching prospect, and he has maintained a strong grip on that status throughout the year. Considering the dearth of talent in Triple-A and the potential need to have Richards join the Angel rotation next season, I would not be at all surprised to see the Halos jump Garrett to Triple-A this month to see if he can handle that level of competition as a preliminary audition for him coming to Anaheim in 2012.
Eddie McKiernan, RP – Not so long ago, McKiernan was a guy the Angel front office was promoting as a big-time prospect. Ummm, oops! McKiernan has been absolutely terrible in Arkansas. They've tried using him in relief, where he has been bad, and the rotation, where he has been awful, and he is now serving as something of a swingman. Not exactly a role you hand to a future star. McKiernan has lowered his walks this season, but his strikeouts have dropped off along with them. What has really killed him though is the 14(!) homers he has allowed in just 64 innings. Yikes. The good news is that Eddie is just 22, so he has plenty of time to get his career back on track.
Inland Empire 66ers (High A)
Jean Segura, 2B/SS – And now the obligatory Segura update. Sadly, there isn't much to report other than Segura is still on the disabled list, having not played since May 27th. Segura actually ended up aggravating a hamstring injury he suffered just a few weeks before, so there is on real timeline for when he will return. Gosh, imagine that, an Angel middle infielder who constantly suffers leg injuries? That never happens.
Kole Calhoun, OF – I have to admit, I was skeptical of Calhoun's big powerful start to the year. I also have to admit when I am wrong. Calhoun has actually gotten better as the season has gone on. After hitting five dingers in both April and May, Calhous has smacked just two in June, but he has also ripped 10 doubles this month while batting .400. Well played, Calhou, well played.
Mike Piazza, RP – The name obviously is the first thing to catch one's eye, but Piazza's performance is well worth noting. In 35+ innings, Piazza has fanned 42 while allowing just 24 hits and 13 walks. At 24, Piazza is a bit on the old side, but the performance is hard to ignore and it will be interesting to see how he does now that he has been moved into the Arkansas bullpen.
David Carpenter, RP – Piazza is doing well, but Carpenter is doing better, which is probably why he was closing for the 66ers. With his miniscule 0.93 ERA and 26/9 K/B ratio, Carpenter proved himself at Single-A and has been rewarded with a promotion to Double-A where he has been perfect in his first three appearances.
Cedar Rapids Kernels (Low A)
David Harris, DH – I know nothing about Harris, but as one of only two Kernels with an OPS over .700, I figured I'd mention him. Seeing how he is hitting just over .230 and has already struck out 70 times while being listed as a DH, I'm guessing he probably isn't anyone worth remembering.
Tyler Kehrer, RP – A 2009 sandwich round pick, the Angels were probably hoping for more from Kehrer at this stage of his career, but he could be starting to turn the corner. He has been demoted to relief full-time this season and it seems to suit him. Kehrer has been absolute death on lefties, but his overall numbers are strong too, as seen by his 1.96 ERA. He's also allowed a scant 7 hits in 18.1 innings while striking out 24. The problem, as it always seems to be with young relievers, is walks, which Kehrer has 14 of.