The Angels may not have a GM (yet) but that doesn't mean we can't get ready for the start of the off-season which is coming up fast. In order to help the new guy (or gal) out, the least I could do is come up with a bit of a primer on the viable free agent and trade targets that the future general manager might want to consider to plug in the many holes the Angel roster has. To start things off, let's take a look at the catching market so that we can be done with this Jeff Mathis nonsense once and for all.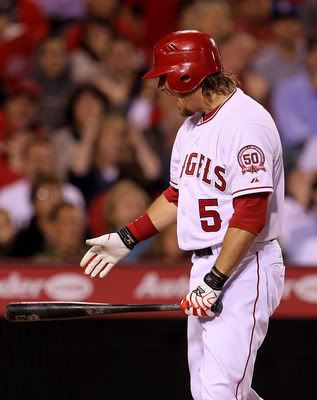 Yell all you want, Jeff, it isn't going to help you keep your job.
As a general disclaimer, I am only going to consider viable options (at least in my mind) for the Angels both in terms of them being a realistic signing or trade (sorry, no magic trades for Joe Mauer) as well as a proper roster fit. For example, Ryan Doumit won't be appearing on this list since he is essentially a poor man's version of Mike Napoli.

FREE AGENTS
Ramon Hernandez – If the Angels don't believe in Hank Conger, expect them to at least kick the tires on Ramon Hernandez. I doubt he'll end up with the Halos since he is sure to be wildly overpaid this off-season since he is the only starting caliber backstop on the market. Even though Hernandez is a good hitter and a better defender than you realize, he is a mighty risky bet simply because investing big money in a catcher that will turn 35 before the All-Star break is fraught with peril. The bigger risk for the Angels though is that Hernandez is the type of guy who can and should maker upwards of 120 starts, thus stunting the growth of Hank Conger. Of course, they could use Hernandez's presence as reason to trade Conger and get a nice return for him, but that seems unlikely.
Jose Molina – This is my preferred choice. Molina is old but his defense is still excellent and his bat has just enough life left in it to make him a viable back-up. He is the ideal Mathis replacement since we know Scioscia knows and trusts him but he carries the added benefit of being too old to play more than 60 games a year. His strong defensive knowledge should make him an ideal mentor to Hank Conger. The only reason he might be unsignable is that his big brother Bengie didn't leave the clubs on great terms, so if Bengie is still carrying a grudge, Jose might ignore the Angels' advances as a show of fraternal solidarity.
Rod Barajas – At a point, signing a back-up type catcher doesn't make sense due to the Angels having Bobby Wilson on the roster. Wilson might not all that much better than Mathis, but Scioscia likes his defense. So, if a guy is going to force the Halos to upgrade over Wilson, he will have to bring more to the table than a solid glove. Barajas isn't even all that special defensively, but he is good enough and, more importantly, he actually has an offensive tool. Barajas doesn't walk and is a bad bet to hit over .240, but the dude has pop having spanked 16 or more homers in each of the last three seasons despite never getting more than 460 at-bats. That would immediately make him about fifty times better offensively than what the Halos got from the Mathis-Wilson duo last season. It would also give the team a guy who is good enough to start if Conger falls on his face again, but also a guy who wouldn't be upset if he winds up as a back-up either.
TRADE TARGETS

Kurt Suzuki – It isn't clear if he will be available this off-season, but the A's look like they need to rebuild and Billy Beane is never shy about making a trade. It seems like Suzuki may never fully deliver on the offensive potential he was thought to have, but again, a guy that can post close to a .700 OPS would be a major improvement for the Angels. Suzuki also fits the young, athletic mold that Scioscia seems to like from Mathis and is also exceptionally durable, having played 131+ games in each of the last four seasons. The one thing that makes him worth targeting is that he still does have that offensive upside and just needs to get to a better ballpark and a little luck (his BABIP the last two seasons is .245, which is 25 points below his career norm). He won't be cheap to acquire, but he would be a legit starter.
Chris Iannetta – The ultimate change-of-scenery gamble. Iannetta has been infuriating for the Rockies as he has shown great power and a great on-base ability, but his bat is so wildly streaky that the team has had to demote him to the minors on more than one occasion in order to try and get him straightened out. Now, trading for a guy who already plays in Colorado in hopes of maximizing his offensive upside might seem counter-intuitive, but I think we have all seen what a slugging catcher can do when he gets free of an atmosphere that is putting far too much pressure on him to perform (excuse me now while I flog myself for alluding to Napoli). The question here is whether or not Iannetta defense is good enough to justify the deal. He has been streaky in that regard as well but he seems to have settled down there, at a minimum, he throws out runners at a decent clip, so he can't be too much of a liability. The only real issue I see with Iannetta is whether or not he makes for a good catcher pairing with Conger since they have somewhat similar skill sets. If the Angels do go after him, they probably won't have to give up much since he is thought to be a non-tender possibility this off-season.
Geovany Soto – Again, I don't know if he is available and the former All-Star certainly won't be cheap, but if Theo Epstein decides he needs to blow up the Cub roster and start from scratch, Soto would be an ideal piece to deal away. Soto has been all over the map offensively, seemingly alternating between hitting over .280 and under .230, but his power and plate discipline have remained relatively constant. What makes him ideal is that he actually grades out as a very good defensive player even though he has made his reputation more on the strength of his bat. The main reason the Cubs might trade him is the same reason the Angels might not want him and that is that he is about to start getting very expensive. He made over $3 million last season and is about to hit his second year of arbitration where he should make double that, at least. $6 million would be more than palatable, but couple that with the big package of prospects the Angels will have to cough up to pry him from the Cubs and the Halos would have to think long and hard about whether or not they might be better off in the long-term hoping that Hank Conger can realize his potential.