Players can officially start signing with new teams today, but due to all the arbitration mumbo jumbo, the real hot stove action is still a few weeks from really getting going. That gives new GM Jerry DiPoto plenty of time to scour the market to find a new starting pitcher to plug into the back of the rotation, unless he actually believes that Tyler Chatwood or Garrett Richards are up to the job, even though all indications strongly suggest they aren't. But with starting pitching expecting to be at a premium this winter, who could the Angels afford to sign or trade for?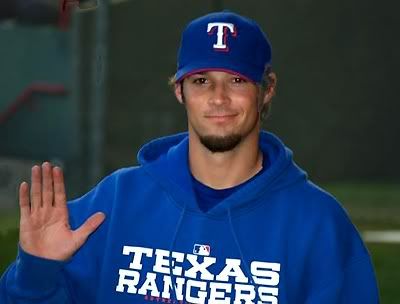 Raise your hand if you just cost yourself millions of dollars by choking in the post-season!

As a general disclaimer, I am only going to consider viable options (at least in my mind) for the Angels both in terms of them being a realistic signing or trade (sorry, no magic trades for Roy Halladay) as well as a proper roster fit.

FREE AGENTS
C.J. Wilson – Yes, he was not good at all in the post-season and it will bring his price down, but I seriously doubt it will be brought down enough to fit into the Angels budget. Wilson seems like sure bet to make at least $15 million per year in his next deal. That would take up almost all of the Angels free payroll this year. As much as I like the idea of doubling down on rotation dominance, the Angels neeed to make sure they have enough money left to address their other roster problems. For that reason, I don't think the Halos will bid on Wilson unless they find a way to dump several million in contracts in the very near future.
Mark Buehrle – This is essentially the cheaper version of Wilson. Buehrle is hardly dominating, but he has been remarkably consistent in his long career. He will be expensive, but not quite as expensive (hopefully no more than $12 million per year) as Wilson, so he could just barely fit into the Angels' budget. It would be a lot to spend on a fourth starter, but it would be a safe bet. Personally, I think it would be interesting to see if the Angels wouldn't actually be getting some added value from Buehrle, being a soft-tossing lefty, by mixing him into a rotation of hard-throwing righties. I just like the idea of opposing teams having to prep to face a polar opposite style of pitcher every fifth day.
Hiroki Kuroda/Erik Bedard/Rich Harden – All of these pitchers do different things, but they have one thing in common: fragility. When these guys are healthy, which isn't often, they can be lights out starters. Alas their inability to avoid the disabled list makes them risky investments. Normally I wouldn't want the Angels to throw money away on gambles like that, but when budget room is tight, you have to assume some risk if you want to get a big return. Kuroda is probably the safest of the bunch, but he'll also be the most expensive, if he is even willing to leave the Dodgers. After that, Bedard had a mostly great season before falling apart when he got to Boston… just like the rest of the Red Sox. As for Harden, at least he knows the AL West, but he hasn't been good at all the last few years and might be better off in relief, which actually isn't a bad fallback plan. Like Wilson and Buehrle, I think Kuroda and Bedard could have extra value to DiPoto since they are left-handed and Jerry wants more roster balance. Adding a southpaw starter to an all right-handed rotation seems like just the thing he is talking about.
Jon Garland/Paul Maholm/Joel Pineiro – I don't like any of these guys that much, but given that Jerry DiPoto says he favors pitchers who induce grounders in lieu of missing bats, any groundball-heavy pitcher is bound to show up on his radar. These guys aren't dominant, but that isn't a big problem since they are just being brought in as #5 starters, but at least it should make them cheap enough to fit into the Angels' budget. I doubt Garland will come back to Anaheim, but DiPoto should be familiar with him from Garland's one season in Arizona. I also wouldn't rule out re-signing Pineiro, assuming the medical staff thinks he is healthy. Maholm is probably the only intriguing arm here though. He is "only" 29, so he is in his prime and theoretically could actually still improve his game, especially since he might be energized after escaping from the pitching purgatory that is the Pittsburgh Pirates organization.
TRADE TARGETS

Wandy Rodriguez – Because starting pitchers typically cost SO MUCH via trade, I am generally against the idea of the Halos trading for high-end starting pitching this off-season, but if they insist on it (and I don't think they do), Wandy Rodriguez should be their target. He is owed a lot of money over the next two years, but the Astros are rebuilding and could be willing to eat some of his contract in return for a nicer package of prospects. Still, this is a gamble. Wandy doesn't throw very hard, so his stuff may not play very well in the American League. That means the Angels could be making a big trade for a guy who is supposed to be a good #3 starter but ends up pitching like lousy #5. Frankly, if they are going to move any of their prospects, I'd rather it be for a bat, not a bonus arm for the rotation.