Alright, Angels. You've had two weeks to rest up and lick your wounds since the end of the season, but relaxing time is over. If you want to return to the playoffs next year, you're going to have to do some work this off-season. The infielders go their assignments earlier this week, but now it is the outfielders turn to find out what they need to work on this off-season.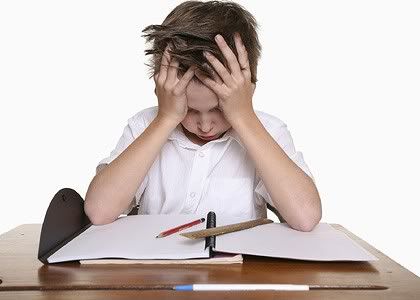 Why does homework have to be so hard?

Bobby Abreu – Coach some winter league teams
Abreu may not be ready to admit it, but his career is pretty much over. The Angels might try and dump his contract on someone this off-season, but no mattter what uniform he ends up wearing, he isn't likely to play very much. That doesn't mean he can't be useful though. Abreu has shown a knack for mentoring younger players and that is a role he should now embrace as he prepares for the next stage of his career. Getting some formal coaching experience in the Venezeulan winter leagues would really help him become something more than just respected veteran.
Peter Bourjos – Watch Major League 2 and focus on Willie Mays Hayes
Remember in Major League 2 how Willie Mays Hayes shows up for training camp and decides that he has home run power all of the sudden and he starts trying to crank everything out of the yard instead of using his speed only he just keeps popping up? Yeah, I don't want to see that happen to Bourjos. Yes, he does have some pop in his bat and got his power stroke going at the end of the season, but the last thing he needs to do is start trying to hit the ball in the air. The power will always be there when he needs it, but the path to him becoming a consistent offensive force requires him to focus on spraying line drives and groundballs, not yoking up so he can hit 16 homers instead of 12.
Torii Hunter – Relax
Yeah, Torii's not the perfect player and he seems to be slowly slipping as he gets older, but there isn't anything he can do at this point that can slow that decline other than to keep himself rested. He burnt himself out in the second half of 2010 and it seemed to carry over into the first half of 2011, so maybe if he takes it easy this off-season, he can get out of the gates fast in 2012 and sustain his highest level of performance throughout the course of the season.
Mike Trout – Be aggressive, B-E aggressive!
I'm all for the Angel hitters having more patience, but they don't need to force it. That screwed up Erick Aybar in 2010 and I think we saw a little of that happening with Trout in his brief time in the majors in 2011. Now, plate discipline is one of the top skills that Trout was supposed to have coming out of the minors but I think he tried to take it a little too far. Trout only swung at 40% of the pitches he saw this season (which would put him amongst the most infrequent swingers in baseball), and to me at least, it appeared that he was often taking pitches just for the sake of taking pitches, which left him down in the count more often than he would like, thus all the strikeouts. Mike just needs to learn that big league pitchers aren't going to give you as many hittable pitches in an at-bat as he was seeing in Double-A. Trout should still focus on staying disciplined, but he also has to be ready to learn that he can't just wait around all day for the perfect pitch.
Vernon Wells – Study video of all his 2010 at-bats
A lot of people think Vernon Wells is a lost cause, but since we are stuck with him for three more years, we might as well try and salvage him. His historically bad 2011 season has caused many to forget how good he was in 2010 with Toronto. I still find it hard to believe that his skills eroded so much over one off-season that he is not even a MLB-quality player anymore. There was obviously something special he had going for him in 2010, especially at home and he needs to try and recapture that. One thing that did happen late last year was Vernon going on a surge after visiting Toronto and getting his hands on some old video of his at-bats from 2010. If studying those tapes for a few days can give him a few weeks of non-crappy performance, then imagine what reviewing those tapes all off-season can do. Seriously, he needs to start studying that video like it is the Zapruder film.