Another week, another edition of the Angels Player Power Rankings: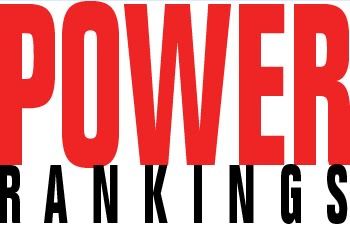 Jered Weaver (last week: 1) – Remember how people were worried Weaver was "wearing down" from such a heavy workload? I don't think the Yankees are buying into that theory.
Dan Haren (last week: 4) – A complete game four-hit shutout of the Yankees will get you a ranking raise any week.
Howie Kendrick (last week: 2) – A .539 OPS this month is not going to help in the AL West race.
Ervin Santana (last week: 3) – No-hit Magic Santana appears to be gone. Inconsistent but still just good enough to give the Angels a chance Santana is back.
Torii Hunter (last week: 5) – Uh oh, Torii is starting to fade again. Don't fall apart on us now, Torii!
Scott Downs (last week: 7) – Downs hasn't allowed a hit this month yet has a blown save. This is why the save stat is stupid.
Jordan Walden (last week: 10) – In four outings this month, he has faced just one more batter than the minimum.
Maicer Izturis (last week: 14) – When you really need a sacrifice fly, is there anyone you'd rather have up?
Jerome Williams (last week: 12) – Three great starts now, I'm starting to believe.
Mike Trout (last week: 8) – The kid is in a bit of a slump, but his presence still produces wins. Those wins might be few and far between if Scioscia insists on him mainly facing lefties, of which there aren't many lined up to face the Angels the next week or two.
Mark Trumbo (last week: 9) – They may have been singles, but Trumbo earned some street cred with three hits off CC Sabathia.
Erick Aybar (last week: 15) – His hitting streak is over, but Aybar is still on fire with a .938 OPS in September.
Peter Bourjos (last week: 6) – That dropped flyball yesterday cost the Angels the game and might cost him the Gold Glove as well.
Bobby Cassevah (last week: 11) – Why do I have the feeling the wheels are going to come off Cassevah at the absolute worse time?
Joel Pineiro (last week: 18) – Pineiro did not pitch this week. This is not a bad thing.
Alberto Callaspo (last week: 17) – He's been lacking the clutch lately, but he remains solidly unspectacular.
Vernon Wells (last week: 13) – Vernon threatened to break out to start the month, but he quickly is morphing back into Vernon the Rally Killer.
Bobby Abreu (last week: 19) – Even when he's going decently, I still wish his option hadn't vested every time I see him.
Jeff Mathis (last week: 24) – How is it Jeff Mathis turns into Albert Pujols whenever he faces the Yankees? Science needs to get on this ASAP.
Bobby Wilson (last week: 16) – After putting up decent numbers while getting regular playing time in August, Wilson appears to be falling out of favor once again. We are now taking submissions for explanations.
Garrett Richards (last week: 26) – It wasn't a perfect outing, but I like the idea of Richards in middle relief down the stretch.
Hisanori Takahashi (last week: 23) – Only one appearance this week. Is Scioscia losing faith in Taka too?
Rich Thompson (last week: 22) – Thompson is Australian for "Only pitches when Scioscia has no other choice."
Russell Branyan (last week: 21) – Another big homer off Mariano Rivera was too much to ask for.
Hank Conger (last week: 20) – I'm not sure Scioscia even realizes he is on the roster anymore.
Jeremy Moore (last week: 29) – Two pinch-running appearances, two runs scored. I think we all know what this means.
Trevor Bell (last week: 27) – He made an appearance in a tight game and didn't allow a run. This is a massive success for any Angel reliever not named Downs or Walden, so he gets a boost.
Tyler Chatwood (last week: 25) – With Pineiro back on track (for now), we won't be seeing much of Chatwood, mercifully.
Alexi Amarista (last week: not ranked) – More short jokes! More short jokes!!!!!
Andrew Romine (last week: 28) – I got nothing.
Efren Navarro (last week: 30) – See above.
Horacio Ramirez (last week: 31) – I repeat, LOOGYs are supposed to get lefties out. Kindly inform Horacio of this.
Fernando Rodney (last week: 32) – Rodney hasn't pitched since September 2nd (not that I'm complaining), having clearly lost what little trust Scioscia still had in him. I'm wondering if we will ever see him pitch for the Angels again (still not complaining).
Gil Velazquez (last week: not ranked) – Clearly the Angels needed another utility infielder.
Go ahead submit your own rankings and feel free to include your own player comments. If they are funny/compelling, I might just use them next week. (Yay for socially-approved plagiarism!)