Some Angels batters had great weeks while some Angels had terrible weeks. The two combined to make for a rough weekend for the Halos and some major shake-ups in this weeks Angels Player Power Rankings.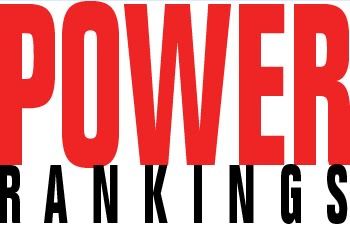 Jered Weaver (last week: 1) – Weaver has conquered the short rest beast, now let's hope the move to set him up to start on the last day of the season actually means he will be pitching a meaningful game that day.
Howie Kendrick (last week: 3) – A two-homer day in Oakland puts a topper on his continued career season.
Torii Hunter (last week: 5) – He didn't really do anything of note this week, but he moves up by default because the people previously above him were so bad.
Dan Haren (last week: 2) – No, Danny! Bad, Danny! You don't get shelled by the Orioles! Bad, Danny!!!!
Scott Downs (last week: 6) – With the exception of June, Downs has allowed one earned run in each month this season. So far, he is at zero in September, so let us hope the one run he is going to allow this month doesn't come back to bite the Angels.
Ervin Santana (last week: 4) – Santana should by the Orioles a new pooper scooper to help them clean up the dump took on the mound during the first inning of his start on Saturday.
Jordan Walden (last week: 7) – He is cruising down the final stretch of the season and could wind up being a dark horse to win Rookie of the Year.
Erick Aybar (last week: 12) – Aybar had a good week in just one day on Sunday.
Mark Trumbo (last week: 11) – He is heating up again after getting a mental day off last week. The Scioscia magic works again!
Maicer Izturis (last week: 8) – He set a new career-high in games played this week. I expect his body to turn into dust any second now.
Bobby Cassevah (last week: 14) – His status as the top righty setup man is going to be put to the test at some point this week when he will be brought in to try and get Jose Bautista out. I'm scared.
Vernon Wells (last week: 17) – His bat is coming alive at the right time (finally). I can't wait for him to go ice cold by the time Texas comes to town.
Peter Bourjos (last week: 13) – After seeing Trumbo come back to life after a mental day off, it might be time to order one of those up for Bourjos, who is hitless in his last four games.
Jerome Williams (last week: 9) – His magical run had to come to an end sooner or later. Now the question is if he can get back on track or has he been exposed?
Mike Trout (last week: 10) – The strikeouts are starting to pile up and his magic "winning" touch is fading away.
Alberto Callaspo (last week: 16) – Some people think that Angels are fine next season with Callaspo at third base. Clearly these people are unaware of his .081 ISO.
Hisanori Takahashi (last week: 22) – Decidedly clutch in bailing out Jerome Williams and picking up a win against Oakland.
Jeff Mathis (last week: 19) – With the way Scioscia has continued to heavily rely on Mathis down the stretch, I'm not sure it is a given anymore that he will be non-tendered this off-season.
Bobby Abreu (last week: 18) – He gets dropped in the rankings solely on that humiliating Willie Mays Hayes-style caught stealing in Baltimore on Friday.
Bobby Wilson (last week: 20) – After Santana's first inning meltdown, Wilson might need to lose his status as Ervin's personal catcher.
Hank Conger (last week: 25) – Hank hits a homer (granted, in garbage time) on Friday yet doesn't get a start Saturday or Sunday. Such is Scioscia's will.
Joel Pineiro (last week: 15) – Uh oh. Bad Joel is back. Go away, Bad Joel.
Rich Thompson (last week: 23) – Made his first appearance in almost two weeks during garbage time yesterday. By the way, he lowered his ERA to 2.98 in that appearance. I don't get it.
Russell Branyan (last week: 24) – He didn't play this week. That amazes me considering there were multiple blowouts and multiple chances to pinch-hit for the catcher.
Trevor Bell (last week: 27) – As far as I am concerned, he should warm up alongside Joel Pineiro whenever Joel starts. That way Trevor is ready to bail him out the second Pineiro gets in trouble.
Horacio Ramirez (last week: 32) – Made one appearance and did his job by inducing a doubleplay. This was the highlight of his season.
Garrett Richards (last week: 21) – His second relief outing didn't go very well, but I still think the potential is there. That being said, Scioscia should avoid giving him a third relief appearance unless the game is out of hand.
Alexi Amarista (last week: 29) – A meaningless RBI double was his only contribution, but that is better than any of the September call-ups did this week.
Jeremy Moore (last week: 26) – I wouldn't mind getting to see Moore make a start before the year is over, but I hope I don't because it probably means the Angels are out of the playoffs.
Tyler Chatwood (last week: 28) – I fail to understand why he gets the call in long relief even though he has been terrible while Garrett Richards, who profiles MUCH better as a reliever, sits unused.
Andrew Romine (last week: 30) – Did you know Andrew has a brother, Austin, who is a defensive specialist catcher (which means he can't hit) in the Yankees farm system? Mike Scioscia already can't wait to trade for him.
Efren Navarro (last week: 31) – At least we finally figured out what Efren's role is: defensive replacement at first for that one game that Scioscia knew he was going to start Kendrick at first. Glad we solved that mystery.
Gil Velazquez (last week: 34) – There is literally nothing interesting to say about Gil Velazquez.
Fernando Rodney (last week: 33) – I finally move you out of the basement and you reward me by complaining to the media about not getting any playing time. That's what I get for being even remotely nice to you. I hope you enjoy getting only minor league offers in free agency this off-season.
Go ahead submit your own full or partial rankings and feel free to include your own player comments. If they are funny/compelling, I might just use them next week. (Yay for socially-approved plagiarism!)