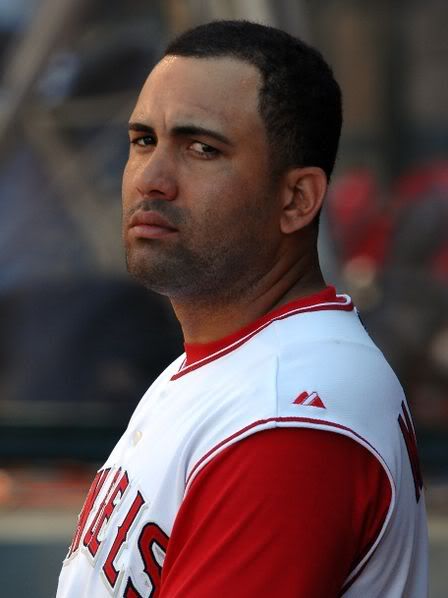 Now that we've had a night to digest the news of Kendrys Morales having his season declared over even though it never really began, it is time to take a step back to look at the big picture of how his loss will affect the Halos going forward.
The good news is that things aren't nearly as dire for the Angels as it was when he first hurt himself, probably because the Angels had somewhat planned for this contingency coming into the year.
Now, now, relax, I'm not going the "truther" route and suggesting that the Angels knew all along Morales wasn't going to play this season and conspired to make us believe otherwise (though 9/11 totally was an inside job, no question), merely that they knew a slow recovery was possible and this worst case scenario had at least a decent probability of coming to pass.
That's why they added another bopper in Vernon Wells (nice idea, poorly executed) and never seriously shopped Mark Trumbo even though it seemed that he had no real long-term future with the team.
All that has really done so far though is prevented us from having to suffer from another call-up of Paul McAnulty. Like I said, that's good, but now that we know Morales is not coming back this year, I sure hope there is more to their contingency plan than that.
My deep fear is that Tony Reagins will use the same strategy that he used last year to replace Morales, which was to do nothing at all. Trumbo and Kendrick have done a decent job of filling in for Kendrys so far, so I can see why they wouldn't be clamoring to upgrade at first base, but that doesn't make it the correct move.
The problem isn't so much replacing Morales' specific spot on the field so much replacing his production in the order. Without Morales, this offense has been rather pedestrian (and I'm being kind). We've heard for months now that the Halos were in no rush to add another big bat to their weak lineup since they were essentially going to be getting one for free when Kendrys rejoined the team. But that idea is dead in the water now. If they want to add some power to the middle of the order, they are going to have to do it the old fashioned way, making a trade.
In my opinion, that leaves two options and only one is palatable to me (I'll let you guess). The Angels should immediately start talking trade for David Wright and Prince Fielder. I've already written plenty about why trading for Wright is such a good idea, but he is going to be expensive. Fielder should be less expensive since, as a Boras client (hint, hint), he is going to be a rental player. What is worse though is that the Brewers may hold on to him since they are hoping to contend this season.
I dislike the Fielder idea for a number of reasons, but the primary one is that he is a temporary solution. The Angels are saying that Kendrys will likely be ready for the 2012 season, but I don't think we can trust that statement yet, especially before he has the second surgery. Even if he is ready, there is no telling what kind of effect the injury and long layoff will have on Morales. It sucks to say this, but the new worst-case scenario for Morales is that he may never be a great or even good player ever again.
Which brings us back to Wright. The Angels need a new player to build their offense around and Wright seems like an ideal fit since he is still plenty young enough and, more importantly, signed through 2013. The catch though is that the Angels may no longer have the goods needed to bring Wright in, or any other big impact player. Two of their best trade assets are Trumbo and Tyler Chatwood, two quality young players who were very tradable coming into the season, are no longer tradable thanks to injury (Morales) and ineffectiveness (Kazmir). Both players are now necessary components on a roster that very much believes they can win their division and maybe even contend for the World Series. A trade could still likely get done, it will just be a heck of a lot harder to pull off.
Of course, that is just what I would do. What the Angels will do remains to be seen and I suspect that they will stand pat until much closer to the trade deadline so they can see how things pan out. If Vernon Wells returns from the DL and starts raking and/or Mark Trumbo keeps getting better, then adding a major piece isn't so necessary, at least not right away. Still, I wouldn't be at all surprised if the Angels went out and found a left-handed bat for the bench to act as a Trumbo insurance policy (i.e. Luke Scott, Jason Kubel, Adam LaRoche, etc.).