Third base was a major problem for the Angels in 2010, but after failing to upgrade at third in the off-season, the Halos hot corner situation is once again not looking so hot.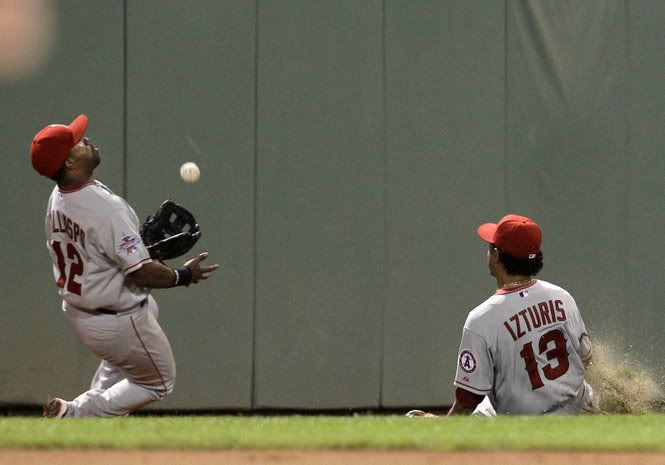 Izturis or Callaspo? Callaspo or Izturis? Does it really even matter?

I've got good news and bad news. The good news is that the Angels can't possibly get any less production out of their third basemen than they did with the .573 OPS they turned in. The bad news is that they have the exact same crew of players manning third base this season, minus Kevin Frandsen.
Feel better now? Yeah, I didn't think so. But before you go searching for the nearest ledge, at least give me a chance to talk you down.
The Angels will still have a bit of a competition for playing time at third base, but the pecking order is already fairly established with Maicer Izturis on top, Brandon Wood on the bottom and Alberto Callaspo somewhere in the middle. What remains to be seen is just how the playing time at third will be divvied up amongst the three candidates. Whatever that formula turns out to be, the Angels can rest assured of one thing, that they will have the position well defended. Maicer Izturis has long been well-regarded for his glove at whatever position he plays. Alberto Callaspo has had his ups and downs, but he finished the season with a 2.9 UZR at third and seems to be getting better at the position everyday now that he is free to focus on one position and not moving around the field so much. And Brandon Wood, with fans focused so much on his miserable offensive performance, it went almost totally unnoticed that he was actually pretty awesome defensively with a 6.6 UZR in limited action (and a UZR/150 of 27.9 which was far and away the best out of any third baseman who played over 400 innings).
That's all fine and good, but defense wasn't exactly what made the Angels' third base situation such a borderline travesty (except when Kevin Frandsen and the frying pan he used for a glove played third). The real problem was hitting or the lack thereof. But believe it or not, things should get better in that regard too. For starters, the Halos only got 98 ABs worth of Maicer Izturis at third base last year. Izturis might be the one reliable offensive option the Angels have at third, so it will go a long way towards the Angels' offensive improvement if they can double or even triple the number of at-bats he expends as a third baseman rather than plugging holes elsewhere.
Of course, we all know that Izturis may not even be available for 300+ at-bats at third this year due to his fragility and the possibility that Erick Aybar might not bounce back like everyone hopes, which is why Alberto Callaspo is so important. After his trade to Anaheim, Callaspo fell off an offensive cliff for some reason. The two seasons prior, Callaspo had been a steady .300 hitter for the Royals as opposed to the .249 hitter that developed a sudden allergy to drawing walks that showed up in Anaheim. I'm personally inclined to believe that the nearly 800 productive at-bats he had in Kansas City were far more representative of Callaspo's true talents. At worst, one would hope that Alberto could at least turn in a line somewhere in between his Angel-awfulness and his Royal-radness. That may not sound like anything worth getting worked up over, but any kind of improvement the Angels can get from their triumverate of three-baggers is a step forward.
And that brings us to Brandon Wood. You see, with Brandon… well… ummm… ah, screw it. He sucked last year, there's no telling if he'll be any better this year. Anything, and I do mean ANYTHING, they get from him this year is gravy. The important thing to note is that Wood should be getting less playing time, so even if he is as bad as he was in 2010, it almost assuredly won't be 156 at-bats worth of bad.
But what does this really leave the Angels with? More Izturis + better Callaspo + less Wood equals what? Honestly, that probably still will result in third base being an offensive liability in a lineup that can't really afford them. Will it be their Achilles heel like it was last year? No, but it definitely won't help much. If anything, this crew is simply a reasonable placeholder for the first few months of the season. As none of the three is at all expensive, the Angels shouldn't have any qualms about seeking a more productive upgrade come the trading deadline should they still be in contention. So, hooray, Maicer Izturis, Alberto Callaspo and Brandon Wood are essentially the "Good Enough to Hold Us Over Until We Make a Better Trade" All-Stars.