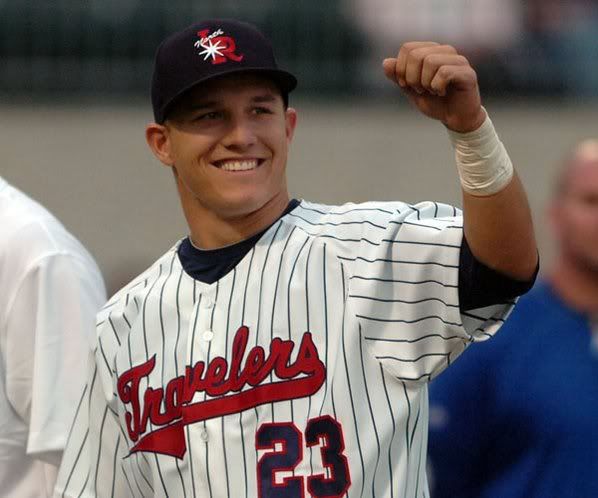 And so Mike Trout's first cup of coffee in the majors comes to an end with the team announcing that our hero has been demoted to the minors, reporting to the Arkansas Travelers.
Say whaaaaaaaaaaaaaaaaaaaaaaaaaaaaaat?!?!?! The Travs? Again? Hasn't he already destroyed the Texas League enough with his .950 OPS?
The short answer is, "yes." The long answer is, "yes, sort of, but it is complicated."
I, for one, definitely thought the Angels would be sending Trout to Triple-A to play for the Salt Lake Bees, so I understand why some are concerned that he is being asked to remain at the Double-A level. Some have speculated that it is because the Angels have decided to slow his career curve down a bit after he scuffled during his brief stint in the bigs. Those people would be wrong.
Yes, it is unusual to have a guy like Trout not jump up to the next level after he has so thoroughly proven himself at a lower level, but there is a unique confluence of circumstances that led to this CORRECT decision to keep Trouty in Little Rock. First, the Travs are a playoff-bound team, something the Angels are very big about. They want Mike to get post-season experience, which is somewhat odd since refining skillsets should be a higher priority, but it seems pretty clear the Angels want him to learn to play under pressure, a hint that they might have plans to use him sooner rather than later. Trout won't get that experience with the Bees because, well, the Bees are horrible and currently sit 14.5 games back in the standings.
Second, Salt Lake might actually be bad for him. The level of competition and talent might be better at Triple-A, but it isn't that much better than in Double-A. The problem with Salt Lake, and the Pacific Coast League in general, is that it is a hitter's haven with all of the high altitude ballparks, Salt Lake chief amongst them. That kind of environment can lead to some bloated stats that have a tendency to cover up flaws in one's skillset, leading to the creation of bad habits (see Wood, Brandon or McPherson, Dallas). On the flip side, the Travelers play in an extreme pitcher's park, so Trout is going to have to earn every one of his offensive stats AND hone his defensive skills by patrolling the spacious outfield. I actually think the defensive development might be one of the bigger driving factors here. Trout is a good defender due to his speed, but in his small sample size of big league time I witnessed, he looks like he still has a fair amount of work to do on getting reads and taking smarter routes.
Finally, and I hate that this is part of the reasoning, but keeping Trout in Double-A turns down the volume on the Trout hype machine. Trout was met with much fanfare during his promotion and many wanted him to stick around. Had Mike gone to Triple-A and started putting up monster numbers in the thin Utah air, those calls for his permanent ascension into the Angel lineup would only grow louder. Stuck back in Arkansas, those calls will still ring out, but without much substance since the team will always have the built-in excuse that he has yet to even attempt Triple-A.
That's it for this week, check back in next week to see what happens to our future hero. Same Trout Time. Same Trout Channel… err, blog.