I changed my mind, I'm now glad that this game wasn't broadcast in my area. I had almost forgotten that the Angel offense has some sort of moral issue with providing run support to Dan Haren.
Well, that sucked, didn't it? Am I the only who feels like it is still 2010? The offense can't get anything going against a mediocre pitcher, with their struggles typically highlighted by a total inability to properly execute the situational hitting that is the backbone of a Scioscia offense. And just like last year, the offense disappeared while Dan Haren was on the mound. He got no run support last year and still isn't getting any this year. Of course, let's not forget to mention that the bullpen that failed the Halos so often last year followed up their near meltdown last night by failing to get the job done tonight. Good time.
Game Notes:
Want to know why Mark Trumbo is batting seventh in the order instead of higher up? Two GIDPs is why. He really is Mike Napoli v2.0. He has the power, but he doesn't have the situational hitting ability, just like Napoli. Hell, the guys even wear the same number.
The overhauled bullpen isn't looking so good, but the revamped outfield defense sure is. With Well's leaping catch against the wall, all three outfielders have shown off their range and made great plays in a mere two games. Nice to know that some of the Angel moves actually do pay dividends.
I am giving the relievers a hard time right now, but I am only half serious. First off, Walden, depsite the walk, looked pretty good tonight and he is quickly going to earn more and more trust from Scioscia with performances like that. More to the point though is that we can't really judge this relief corps until Scott Downs returns. I don't think anyone realizes yet just how central to Scioscia's plans he is going to be. The most obvious example tonight is that it would have been Downs coming into face Kila Ka'aihue tonight rather than Kohn. That just isn't the right role for Kohn, who is really more of a righty-specialist at this point, but he was forced into action because of the pen being used up the night before. Having Downs around would've given Sosh the depth to either just use Downs in that spot, or bring in Takahashi to face just Ka'aihue and then turn things over to Kohn. So, I know it is frustrating, but we all need to have some more patience.
Angel A-Hole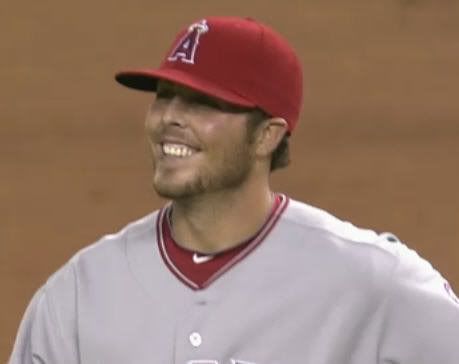 I have just one thing to say about Michael Kohn's performance tonight. KOOOOOOOOOOOOOHHHHHHHNNNNNNN!!!!!!!!!!!!!