Look out! The rookies are on a rampage!!! Run for your lives!!!! We are going to be crushed under this avalanche of runs!!!!!!!!!!!!!!!!!
Holy home runs, Batman! What got into the Angel Kiddie Corps tonight? Trumbo smacks a homer, a double and 4 RBIs. Not to be outdone, Bourjos matched Trumbo's power output and raised him a four-hit game. Finally, Conger "only" drove in two runs on two hits. Really it was the kind of night that Angel management must dream of. Not only did we get to see the kind of potential that the youngsters have, but we also saw the Halo offense come to life with essentially no help from the top part of the lineup.
As I detailed earlier today, the Angel offense has been only marginally better than last season and very much in need of an identity. Both of those problems can quickly find a solution if the trio of youngsters is able to become consistent producers. Clearly they won't always all hit like they did tonight, but if Trumbo can become a consistent power threat, Bourjos can keep mixing in some pop with his blazing speed and Conger can prove that his bat is MLB ready, then this Halo lineup suddenly has a lot more depth and thus a lot more versatility when it comes to trying to push runs across the plate from game to game.
Game Notes:
How crazy is it that entering this series, Bourjos was hitting .225. Now, after two good games, his average is up to a suddenly impressive .293. So much for all that hand-wringing that cropped up again last week about him not hitting enough.
Well, Matt Palmer certainly made things interesting didn't he? I still don't trust the guy, but he was very good tonight and definitely made a case that maybe he should be the guy who stays around when Joel Pineiro comes back. Palmer clearly doesn't have Chatwood's upside, but if Matt can hold his own in the rotation, I suspect the Angels would rather return Chatwood to the minors to keep refining his game.
Just when I was finally starting to think Hisanori Takahashi was going to be fine, he turns in a performance like tonight. It wasn't like he got lit up or anything, but he was very hittable and it makes me worry that his soft-tossing ways just won't work in the American League. He can probably do well in a LOOGY role, but every time he tries to do more than that he has proven to be overmatched.
While the young 'uns did all the heavy lifting tonight, don't overlook the fact that Maicer Izturis had another fine performance, hitting a homer and drawing two walks while playing his standard excellent defense at short. I know Erick Aybar is due back tomorrow, so Scioscia will be able to rest Izturis more often now, but Izzy is just so hot right now, I think it might be worth the risk to keep him in the lineup as much as possible.
Halo Hero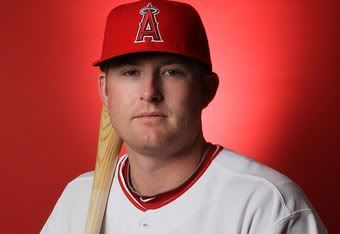 This was a very tough call and I almost copped out and split it between The Trum-bomber and Speedy Petey, but really it was Trumbo who broke this game open. he drove in the first three runs for the Angels and then opened the flood gates with his RBI double in the sixth, so he gets the edge for the Halo Hero.