Maybe it is time to just hand the entire Angel lineup over to the youngsters? Once again, it was the first and second year players at the bottom of the lineup igniting a big offensive night for the Halos and I am starting to think that isn't just an anomaly.
We've seen this story before, but this time the cast of characters were a little bit different. Instead of Trumbo going off, Alexi Amarista took his place and made a very nice impression in his debut. However, the lion's share of the work was done by Hank Conger and Peter Bourjos who teamed up to score three runs and drive in three runs combined. Howie Kendrick and Torii Hunter chipped in a fair amount as well, but make no mistake, this night belonged to the kids.
With as old and broken down the middle of the lineup has looked, the bottom of the lineup has been the exact opposite. The youngsters are starting to give the Angels added dimensions to their offense that have been sorely lacking of late. Conger and Bourjos can bring the power. Bourjos and, for tonight at least, Amarista can bring the speed and clutch hitting. While it is a risk to rely on such young players to make such big contributions every night, games like this prove that it is a risk worth taking. Maybe not now, but soon, Mike Scioscia needs to give the kids more responsibility and put them in more prominent position to make contributions and shy away from his struggling veterans out of sheer loyalty.
Game Notes:
I asked for the real Tyler Chatwood to show himself before the game and I think I finally see who he really is. I think. Yes, Chatwood kept the Athletics from going off and picked up the W, but I think tonight proved that he isn't ready to stick in the majors, but he is close. The good sign from him is that he got eleven groundball outs (out of twelve possible), so his sinker was definitely doing its job. That being said, his command still isn't there. He walked four batters in 5.1 innings of work and only 49 of his 93 pitches even found the strike zone. His groundball tendencies kept those walks from being too damaging, but that isn't always going to be the case. So, what does it all mean? With Pineiro coming back this weekend, it should be Chatwood being demoted, but I don't think that will happen. I suspect the Halos will give him two or three more starts to make his case but then demote him when Scott Kazmir is given his obligatory comeback chance, after that fails, Chatwood will likely remain in the minors and Trevor Bell will get his chance to crack the rotation.
I like what the Angel lineup did tonight with Alexi Amarista in the lineup. That "small ball" lineup gives the Angel offense the identity it has been searching for. Amarista was great and all, but the Angels shouldn't rely on him. The best look for the lineup is with Izturis at second instead, Amarista can fill in off the bench. That sucks for Mark Trumbo, but the speed and situational hitting threat the Halos displayed tonight makes the lumbering slugger obsolete for the time being.
Torii Hunter might finally be breaking out. Not only did he collect three hits, but he did so by hitting the ball with real authority. If he can get the heart of the lineup going and the kids can keep up this production, the Angel offense might be alright after all.
Speaking of which, it is time to drop Vernon Wells a spot or four in the lineup. I still think he'll eventually snap out of his funk, but he has been given more than enough slack this season. He just isn't getting the job done right now and the team can't afford to have him batting clean-up. Flop him and Kendrick and don't let Vernon move up even one spot in the lineup until he start showing some consistent power and production.
Halo Hero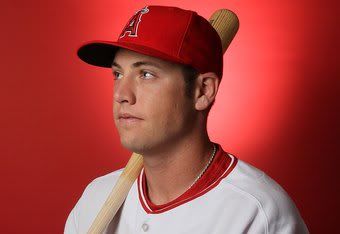 I could've gone a lot of ways with this one tonight, but how could I deny the award to a guy that hit two stand-up triples in one game?