Sometimes it seems like Mike Scioscia fears change, but the Angels skipper made some bold and uncharacteristic changes to kick-off the series and Tampa and those changes couldn't have worked out better.
After the catastrophic series in KC, Angel fans were calling for a cavalcade of changes. I thought for sure that Mike Scioscia, ever the definition of stubborness, would simply spout off lines about not overreacting and staying the course and all those other platitudes, but that wasn't the case. No, Sosh shocked us all, probably even himself by making a few key and instrumental changes for this series. Knee-jerk? Maybe. Correct? Absolutely.
The most obvious change was Sosh giving Fraudney the old heave-ho from the closer's job and handing it over to rookie phenom Jordan Walden. The end result: a one-two-three ninth inning and a quick squashing of any thoughts of another Bullpen of Despair meltdown.
But Scioscia snuck in another move that nearly went unnoticed when he benched Jeff Mathis in favor of Hank Conger, presumably to get the rookie some work, but probably because he wanted to get a little more pop in the lineup. Hank responded by hammering a homer in his very first at-bat and guided Jered Weaver to another fine performance. Not too shabby and certainly a far cry better than Mathis 0-6 at the plate, 0-6 throwing out runners performance the game before. Even if the change isn't permanent, Sosh clearly pushed the right button at the right time.
Of course, not all of Mike's moves worked out as well as planned. Instead of having Kevin Jepsen handle eighth inning duties, Scioscia tried to split them amongst Hisanori Takahashi and Michael Kohn. I'd like to think that this was just to give the already oveworked Jepsen some rest, especially since it didn't work out so well as Taka struggled to throw strikes and Kohn once again was victimized by the long ball. This misstep didn't end up costing the Angels, so I think we can give Scioscia a free pass since his other two moves worked out so well. Let's just hope this encourages him to keep pulling strings.
Game Notes:
Speaking of more changes, it is time for the manager to start juggling the lineup. The bats started out hot but then cooled off considerably and let Niemann off the ropes. I don't think anything drastic is necessary, but Scioscia needs to do something to get Vernon Wells and Mark Trumbo going.
I do wonder if this could lead to Conger getting a real shot at staying around. His defense was at least adequate tonight and he obviously showed what he could do with the bat. Plus Hank never got a real chance to compete for the job in spring thanks to injuries. it is probably just a pipe dream though, Scioscia already made one big, rash decision by firing Rodney as closer, I can't imagine he is just going to start going all scorched earth and fire Mathis too.
Can we talk about how locked in Howie Kendrick is? When he hit that triple I suddenly freaked out and thought Ryan's pre-game prediction of him going for the cycle was actually going to come true. But even more impressive than that to me is that Howie took two walks in the game. That is no small feat for him, but it goes to show just how well he is seeing the ball right now. I know this has a lot of us dreaming of big things for him, but it is important to remember that Kendrick is a very streaky hitter and this might just be a hot streak.
Halo Hero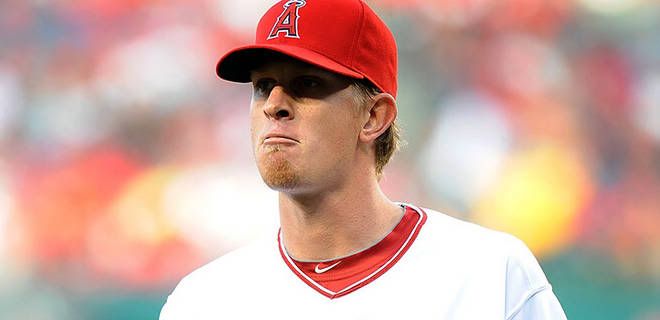 It has got to be Weaver, doesn't it? He came in and did exactly what aces do by shutting down the opposition and pulling his team out of its downward spiral.