Has anyone figured out what in the world happened last night? I know I sure haven't.
Seriously, can someone explain to me what happened in last night's game? As you know, I don't get KCOP, so I got stuck watching it on GameCast or whatever. All I know is that there was apparently baserunning blunders galore and a dubious interference call that saved the day for the Halos.
Now, I did see that interference call on replay, and the Toronto manager can go ahead and shut up. Callaspo did adjust his route to avoid the runner, not the shortstop. It really wasn't even that close. That being said, the runner seemed like he was in the basepath and not intentionally messing with Callaspo, so I don't know that he really should have been called for interference. Then again, it isn't like I have the exact rule memorized. Whatever the case may be, I'm just glad the Angels won, which they probably deserved to since they did blow about a million chances to score the winning run earlier.
Game Notes:
Matt Palmer > Scott Kazmir, but only barely. If Kazmir and Pineiro are really going to be out for a few more weeks each, the Halos need to make a trade or sign some street free agent, because Palmer just isn't going to get it done. Yes, he kept the team in the game enough for them to have a shot at winning, but only just barely.
Hey, Jason Bulger, is it really that hard to throw a freaking strike? No big league pitcher should walk that many batters, much less that many batters when he had them down in the count 0-2 to start. He should consider himself very lucky to survive that game.
Big ups to Dan Haren for putting the team first and coming in to pitch in relief. A lot of prima donna pitchers probably would have never done that.
Finally, both Vernon Wells and Peter Bourjos got a little bit of good feelings going last night. Vernon had an early RBI and drew a walk (although he did miss a perfect opportunity to win the game earlier in extras), meanwhile Speedy Petey came up big with some sacrifices and then picked a great time to smack his first extra-base hit of the season to set himself up to score the winning run. Keep it up, boys!
Halo Hero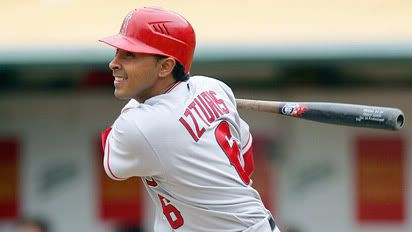 You knock in the walk-off winning run, you get the Halo Hero. It's just that easy.