On the anniversary of Kendrys Morales' disastrous walk-off homer, the Angels narrowly avoided a walk-off loss to add salt to the wound that still hasn't healed one year later.
Ironically, It was Kendrys Morales' de facto repalcement, Mark Trumbo, who ended up being the difference in the game by belting a ninth inning solo homer. Yes, a homer, what poetic justice, that gave the Angels the exact amount of insurance runs they needed to survive a shaky Jordan Walden outing.
I can only imagine what the mood of Angel fans would have been had Waldo not been able to close the door after all. Nothing would have been worse for our collective psyche than to fall victim to a walk-off loss at the hands of the worst team in baseball. But instead, the Angels survived… barely. Just like they are barely surviving as contenders without Morales. Now, with Kendrys' second surgery and first anniversary of his injury behind them, let's just hope we can all finally move on from this whole bit of ugliness.
Game Notes:
My apologies for no preview today. Plain and simple, life intervened and I wasn't able to get it done. Somehow I am guessing everyone found a way to carry on without it.
For once, Dan Haren finally got some help from his mates. While Danny wasn't awful, he clearly didn't have his best stuff and did all he could to turn in six serviceable innings. Fortunately, the Angels actually gave Haren some run support for change and ol' Danny Boy picked up the win.
Enough with Peter Bourjos at leadoff already. I kind of think Scioscia puts him up there every so often as some weird show of confidence, but it just never works. Bourjos had even been starting to come around with the stick of late, but he didn't do much of anything today. My fear is that those misadventures at leadoff are actually eroding his confidence instead of building it and that he'll end up psyching himself out like Ayber did last year.
I'll say this about Jordan Walden's near blown save: I still trust him. As I've said before, he is a kid and he is still learning how to pitch at the big league level, so there are going to be some ups and downs, but one thing he seems to have already figured out is how not to get rattled. It was pretty clear that his command just wasn't there today, but he didn't freak out and he kept on trusting Jeff Mathis to make the right pitch call. And I do give Mathis a lot of credit for keeping Walden together. Not only did Jeff block countless sliders in the dirt, he did a great job of selectively calling for that slider in situations where it would generate swings and misses (mostly). Even though Jordan couldn't throw the slider for a strike, he repeatedly fooled Twin batters because of the way Mathis' pitch calls set them up. This now fulfills my monthly obligation to say something nice about Jeff Mathis.
Halo Hero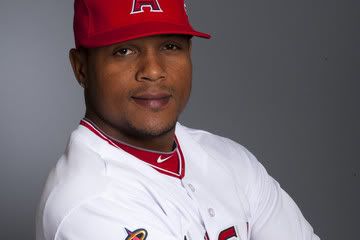 When did Erick Aybar become the entire offense?