I know the Vernon Wells trade only happened less than two weeks ago, but somehow the Angel newscycle feels as if it is now completely and totally dead. Try as I might, I can't think of anything compelling to pontificate about right now and you know what that means… time for another installment of Monkeying Around! I think this is actually the first Monkeying Around (aka a collection of random, half-baked thoughts) since I re-launched the site, so I guess that should be considered a moral victory on my part. OK, enough screwing around, let's get random!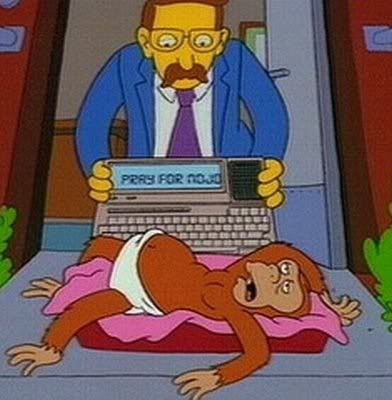 Pray for Mojo and pray for something newsworthy to happen for the Halos so that I have something to write about.

You know, I only just realized it, but I really am going to miss Juan Rivera. Who am I going to yell at through the TV now? Sure, Scott Kazmir blows, but he just isn't as hateable as Rivera was. Can't Tony Reagins sign some other fat, lazy underachiever to fill out the bench, yawn in the batter's box and chase down flyballs with the enthusiasm of an anemic tranquilized sloth? I hear Garret Anderson still hasn't officially retired yet.
I saw this little link about how someone tried to execute the Napoli-Rivera/Wells trade on their PS3 game only to have the computer GM for the Angels turn it down. This would concern me more if not for the fact that I have played a lot of video games over the years and the logic used for making trades in those games is pretty suspect. I definitely remember swinging several trades of the "my worst six players for the other team's superstar" variety. I'm sure video games have come along way since my heyday (which wasn't all that long ago), but I am also pretty sure that I could fire up my NBA 2K11 right now and find away to convince the computer GM of the Denver Nuggets to trade Carmelo Anthony to my Golden State Warriors for Vladimir Radmanovic, Dan Gadzuric and Brandan Wright.
There is so much fervor out there for the Angels to bring back Vladimir Guerrero, but I wonder if they might not be better off bringing back another former Angel slugger: Troy Glaus. Now, I know Troy recently said he is going to sit out the first part of the season, but I bet he could have his mind changed. He still strikes out a ton and doesn't hit for a great average, but as a bench power bat and spot-duty DH/1B/3B, the Angels could probably do worse. If I were GM, I'd give Wood and/or Trumbo a shot at becoming a useful bench player the first month or two of the season and if they fail, I'd quickly get myself on the phone with Glaus' agent to bring him back to Anaheim.
So the Angels have announced that will wear throwback uniforms for every Sunday home game. Maybe I am in the minority here, but why did they choose the 1980's uniforms? I have never been that big a fan of those unis, yet they are ALWAYS the ones that they trot out whenever they get a chance. Can't we mix it up a bit? I mean, let's not get crazy and bring back those hideous Disney era "pinstripes and periwinkle" uniforms, but what about the original LA Angel uniforms from when the team was founded and actually located in Los Angeles. What better way to celebrate 50 years of Angel baseball than by going all the way back to the beginning?
C'mon! Who could be against these threads?
How funny is it that this time last year we were all bemoaning that the Angels did NOT pull off a trade with the Toronto Blue Jays (for Roy Halladay) and this year we are all complaining that the Angels DID trade with the Jays, this time for Wells?
Considering that Boston, along with much of the rest of the Northheast, is buried in snow right now, I really hope Carl Crawford, a Texas native who spend his entire career playing in Florida, really enjoys his white winter. I'm sure he wouldn't want anything to do with this 60 degree weather in Anaheim right now. Then again, $142 million can buy a lot of scarves and mittens. Good luck with all that, Carl.
With the Super Bowl coming this week, it got me thinking. Why not have the World Series be played entirely in a neutral location? I am not totally sold it is a good idea, but since homefield for the World Series is already being determined by something as dumb as the All-Star Game, how is playing all seven games at a neutral site any dumber? At a minimum, it would take weather out of the equation most years (no more games being played in 40-degree weather in New York). And with no travel, they could eliminate the off-days, which would be interesting since it would force teams to go to a five-man rotation rather than the standard four in the post-season. The only wrinkle I see is figuring out when a DH is used and isn't.
Speaking of football, I just read that AEG is getting $700 million for the naming rights to the new downtown LA football stadium they want to build. How can they sell the rights for that much without A) an actual building and B) an actual NFL team that plays in the building. More importantly, with that kind of money on the table for naming rights, should we be mad at Arte Moreno for not selling the naming rights to Angel Stadium? What if he could get $10 million per year for it? Would that have been enough to allow him to go all-in on a bid for Carl Crawford instead of pulling back in the name of financial restraint?
I think it is a sign that I have been using Twitter too much when I actually consider it a hidden benefit of the trade for Vernon Wells that Vernon is on Twitter. If he is going to tie up all of that payroll, the least he could do is convert the rest of the Angel players into Twitter users.