The trade deadline has come and gone and the Angel roster looks remarkably unchanged. Few thought the Angels would make a big move, but most thought at least some kind of move would go down for sure. The Angels said they explored the market but ultimately couldn't find an deal that worked for them. Whether you believe that or not, the fact of the matter is the Angels are in a tight playoff race and opted to stand pat. The question you must now answer is: was NOT making a trade actually a smart move by the Angel front office.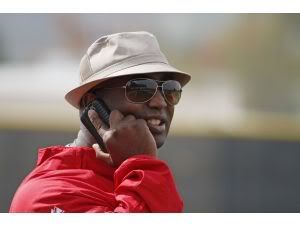 Turns out nobody is on the other end of that phone call.
Time to vote!
Yes, sitting tight is the right move if they really couldn't find the right move for the right price, especially given their financial and farm system limitations.
No, this team was on the fringe of being a real contender and blew their chance to make themselves for real, all while the Rangers widened the talent gap
Fire Tony Reagins!
To place your vote, simply find the Poll of the Week in the gray sidebar to the right.