With more than half of the Spring Training schedule now in the books, things are starting to get serious in the Angels' training camp. The competition for the final few roster spots are heating up and at least a few guys can't be feeling too good about their odds of breaking camp with the team. Which Halo player has the most to be worried about right now? You decide!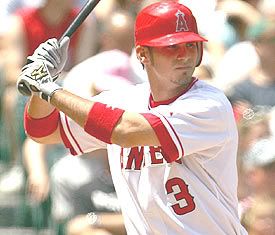 Time to vote!
Brandon Wood. Mark Trumbo continues to smash while Wood continues to crash.
Scott Kazmir. If he bombs in his Monday start in a "B" level game, he might find himself on the waiver wire before he even gets done with his post-game shower.
Jason Bulger. He's been fine, but several other Angel relievers have pitched better and they are much younger with a lot more potential.
Hank Conger. He probably never stood much of a chance to begin with, but in a strange turn of events, he isn't hitting while Mathis and Wilson are.
No, seriously, Brandon Wood. The guy's totally screwer right? No way he makes this team. If you don't vote for him in this poll, you are just plain wrong and/or dumb. Don't be that guy.
To place your vote, simply find the Poll of the Week in the gray sidebar to the right.