We aren't even out of April yet and the Angel offense looks to have already gone bust. With so many things go wrong, do we even know who to blame for this complete and total offensive failure?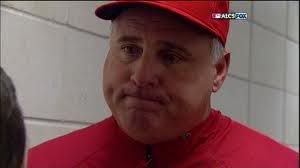 Time to vote!
The veterans. Abreu, Hunter and Wells have all been so collectively awful in the middle of the lineup that it doesn't matter what the rest of the hitters do.
The youngsters. They've had their strong moments, but they are just so darn inconsistent that the lineup can't get into a rhythm.
Mike Scioscia. He is the one who dictates the offensive philosophy and thus far there is no obvious philosophy in play.
Mickey Hatcher. Because it has to be his fault that the entire lineup can't hit at the same time.
To place your vote, simply find the Poll of the Week in the gray sidebar to the right.