I'm not entirely sure that anybody deserves to be the Angels' primary setup man, but someone has to do it, right? The patchwork Angel bullpen has been barely holding itself together this year, but the troubles they are having in the eighth inning are threatening to make everything fall apart. After a rash of meltdowns in the past week, it is time get this thing figured out once and for all. But who is the right man for the job?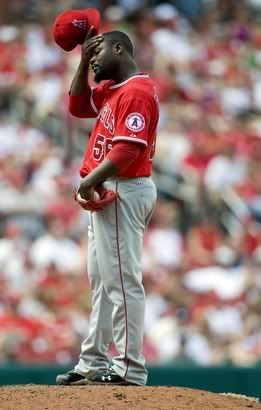 Time to vote!
Fernando Rodney. Because he can't possibly get any worse, right? Right? Stop laughing!
Rich Thompson. His Sunday meltdown aside, he has been fantastic this season and deserves a shot.
Scott Downs. Platoon splits be damned, Downs has the best track record out of anyone in the pen.
Kevin Jepsen. Hey, he's not bad when he isn't intentionally walking people.
Rotate based on who is pitching the best at the time. Oh, wait, nevermind, that makes too much sense.
To place your vote, simply find the Poll of the Week in the gray sidebar to the right.