At the last Winter Meetings, the Angel franchise took a major hit. They botched the Carl Crawford negotiations in humiliating manner, exposing their front office as being inept. That embarrassment ultimately set them up to make the payroll-crippling Vernon Wells trade. So excuse me if I enter this year this year's Winter Meetings with a fair amount of trepidation, new front office be damned.
Fear must not hold us back though. We are armed with a new GM that appears to know what he is doing and, well, these meetings are going to happen whether we want them to or not. Dipoto has already shown us what he can do via trade, now he is entering these next few days with the full intention of checking a few more items off of his shopping list. Will the Halos continue to make smaller more savvy moves? Or will they look to make a (wait for it) big splash?
Time to read the tea leaves and see if we can't figure out what the Angels have up their sleeves.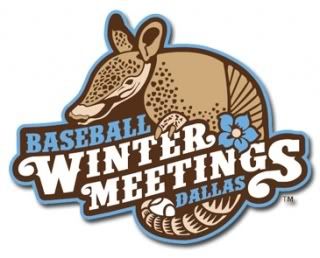 No, the cuddly armadillo mascot does not make me feel any better.

Shopping List Item #1 – Get a starting pitcher, preferably C.J. Wilson
That appears to be the the number one goal Jerry Dipoto has been driving towards since he took over. They've made a big show of their courtship of C.J. Wilson the last few weeks, but he has thus far kept them at an arm's length, despite their strong advances. Up until recently, the Angels were considered the front-runners to land Wilson, but in the last few days, that has changed. Supposedly the Nationals are in the lead now, but the Marlins, Red Sox, Yankees and even the Rangers are all in the mix to varying degrees.
So what will happen? The Angels have covered the Wilson market more than any other team. They've had plenty of time to close the deal and been unable to do so. While he does have a desire to return to his Southern California roots, it appears that whoever offers the most money is going to win. Some team is going to give him stupid money, and my money is on that being someone other than the Angels, probably the Nationals. But fret not, this won't be another Crawford Catastrophe. Dipoto has been planning a Plan B for some time. That Plan B, as most Angel fans have suspected and even preferred, will be Hiroki Kuroda, who will sign for the Angels for $23 million over two years, possibly even signing before Wilson does.
Shopping List Item #2 – An impact bat, possibly Aramis Ramirez
The Angels and Aramis Ramirez are in a big messy he said-she said tiff right now. The Angels keep saying they aren't that interested, but Ramirez' agents insist that they are not only interested, but seriously into discussions on Aramis. There is also the lingering possibility that we will once again start hearing rumblings of the Angels taking a run at Prince Fielder or Albert Pujols.
So what will happen? Nothing. Zip. Zilch. Nada. Not on this front anyway. Ramirez is going to ask for too much money and has too many red flags associated with him. Besides, he just doesn't seem like a good fit for what Dipoto has said he wants in his lineup. As for Fielder and Pujols, that's just comical. Their agents will try and throw the Angels hat into the ring in hopes of driving up the players' asking prices, but the Halos don't have that kind of bank this off-season.
Shopping List Item #3 – The never-ending, broad-sweeping quest to add some relief help
If you are a right-handed free agent reliever this off-season and the Angels haven't inquired about your services, you should probably retire. The Halos have been linked to dozens of free agent relievers this off-season, and those are just the ones that we have heard about through the media. Dipoto clearly understands that he needs someone to share late-inning duties with Walden and Downs, and he is going to turn over every stone until he finds the right guy (or two?).
So what will happen? Let's see, Jonathan Papelbon got crazy money. Heath Bell got crazy money. Ryan Madson got crazy money, but then had it taken away. I think it is pretty safe to say that the high-end relief market is spinning out of control a bit, cost-wise. Dipoto would probably love to snatch up Madson or Francisco or even Rauch, but it likely isn't going to make financial sense. What Dipoto will have to do is wait the market out. Maybe someone falls into their lap, but probably not. To cover their depth, expect Dipoto to sign someone like Todd Coffey. But Dipoto won't be satisfied with that. Enter Maicer Izturis, a name that you are going to hear A LOT this Winter Meetings. Several teams have already inquired on him and the Angels would be stupid not to listen. Maicer is there best ticket to landing an impact reliever. They could go big and try and move him in a deal for Huston Street. There is also a pretty logical match between with the Giants who have Ramon Ramirez. None of these deals are likely to be completed at the Winter Meetings, but the groundwork can certainly be laid.
Shopping List Item #4 – The Mystery Item
We can't forget that we still don't know Jerry Dipoto very well yet. We don't know how he works or even really the kind of moves he likes to make. For all we know, he could have some crazy trade or signing that we never anticipated in the works. Is he covertly trying to pry David Wright loose from the Mets? Is he quietly shopping someone like Peter Bourjos? Has he secretly negotiating a return to Anaheim for K-Rod? Maybe he is making a sales pitch to Albert Pujols as you read this?
So what will happen? Obviously, we don't know what Jerry is planning. What we do know is that whatever he is does will have to be done with not a lot of money. The Angels had $15-20 million to spend going into the off-season and already handed out $3.6 million of that via the Chris Iannetta trade. This isn't to say that the Angels don't have the money to be active, but it does mean they are going to have to be creative in whatever major dealings they do.