The polls are back, folks! I don't know if anyone was actually missing them, but a few things have compelled me to bring back our weekly poll feature:
I'm lazy and posting a poll is quicker than writing a full post.
I just realized the main site poll has been if the Angels will overtake the Rangers for the AL West still. Yeah, might be time to take that one down.
We actually have a good topic this week.
Yessir, the Angels general manager candidate list is finally starting to slowly trickle out and I think we have enough prospective candidates to make this an interesting vote. We already knew that Jerry DiPoto of the D'Backs and the Yankees' Damon Oppenheimer and Billy Eppler were on the short list, but the last two days has also revealed that Texas AGM Thad Levine and MLB exec Kim Ng will be getting interviews as well. All seem like great candidates and I simply can't decide who is the best man or woman for the job, so I am going to let you all do it for me by voting in this weeks poll.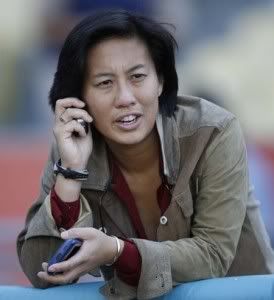 Oooh! Hire her, she has two cell phones, that means she can be twice as productive!!!

I want this poll to hang around until the GM is actually hired and will update it whenever new candidates emerged, so I won't be doing this via Polldaddy and will instead go back to the old school way of using the Poll of the Moment in the sidebar. So go ahead, place your vote or leave a comment or both.
Who do you want to be the next general manager of the Angels? (UPDATED: Rich Hahn and Tory Hernandez were reported as being on the interview list shortly after I posted this, so they have been added to the vote)
A) Jerry DiPoto
B) Damon Oppenheimer
C) Billy Eppler
D) Thad Levine
E) Kim Ng
F) Rich Hahn
G) Tory Hernandez