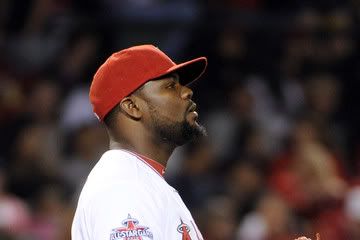 I like to think that I coined Fernando Rodney's nickname "Fraudney" (that may or may not be true, but I take credit for it nonetheless). MWAH's own Jon Lyons has also brilliantly labeled him "The Tilted Hat of Misery." Those nicknames are fun, creative and entirely true, but I have yet another new name for us all to call Fernando Rodney and that is: Fernando F@#!ing Rodney.
Is it creative? Not at all. Is it appropriate? Abso-freaking-lutely.
Who amongst us hasn't yelled that very phrase at our TV at least once this season. Heck, I've probably screamed it five times in the last week alone. This goes without saying, but Fernando Rodney has been so tragically terrible this season that he has quickly become the most hated man in Angel Nation and, really, he is blowing the competition out of the water.
One of my favorite new stats for relievers is Meltdowns. Basically, it measures all the times that a relieve caused irreparable harm to his team's chances at winning. This is a great stat to look at for Fraudney since his more standard numbers like ERA, which is 4.67, doesn't look all that bad. It definitely doesn't look good, but it doesn't show just how bad he has been at the absolute wrong time. Meltdowns though, they get it. It turns out that in just 20 appearances, F@#!ing Rodney has melted down five times, good for the second highest total in the majors. To put that in more perspective, Rodney "only" had 13 meltdowns in his 72 games last season
To be fair, Fraudney also has 9 shutdowns (the opposite of a meltdown) to his credit, but when it comes to a reliever who is supposed to be locking down the opposition in high leverage situations, a less than 50% rate of shutdowns coupled with a 25% rate of meltdowns certainly can't be something any manager wants.
Which brings me to why it is Fraudney's lousy year has earned him the ignominious distinction of the Least Valuable Player of the first quarter of the 2011 Angels season. Those five meltdowns have directly translated directly to three losses for the Angels. Miraculously, the Halos were able to overcome his other two meltdowns and still get the W. But I'm not concerned with the exact number of losses he has directly created so much as the indirect effect of his ineptitude.
In case you haven't noticed, the rest of the Angel bullpen hasn't been so great either, but I firmly believe Rodney is at least partly to blame for the blowpen being so badly exposed so early in the season. I never liked the idea of Fernando closing games for the Halos, but had he been able to hold on to the gig for more than one series, Jordan Walden wouldn't have been given a battlefield promotion so soon. And that quick promotion to the top relief job is something that would have been best to avoid, especially as we now see Walden starting to get shaky of late. As talented as he is, Walden is very short on relief experience and really could have used a few weeks or even months of learning on the job as a setup/middle relief guy rather than getting thrown right into the closer pressure cooker. Therefore, I posit that Rodney's rapid failure at closer has led to additional strife at closer from Walden.
I also believe that Fernando F@#!ing Rodney helped create the current sinkhole the Angels have in the setup role. Once again, had he just been able to put together a few straight weeks of solid work, the Angel bullpen would have had an opportunity to stabilize itself. In these first 40 or so games, they've already had to cope with Kevin Jepsen completely forgetting how to pitch, Hisanori Takahashi being a major disappointment and Scott Downs having a hard time just getting on the mound. These problems left the Angel relief corps perilously thin, but they could have survived it had Rodney, as the senior statesman of the pen, been able to step up and provide consistent, quality work.
Alas, that wasn't meant to be. Fraudney instead seemed to take his demotion with an unsurprising lack of concern or urgency. One would think a proud veteran would have taken his quick hook from the closer role as a personal affront and rededicated himself to getting back on his game. If anything, F@#!ing Rodney has gotten even worse. He's gone from needing a map to find the strike zone to needing to install a GPS system on the mound because I'm not even sure he knows where the plate is even more.
What did we really expect from a guy who won't even wear his freaking hat straight though? Fernando is just a different kind of cat. Only he really knows what is going through his head when he is on the mound and it was probably a mistake to ever put him in a high leverage role. Forgive me for eschewing sabermetrics in favor of "gut feeling" here, but I believe in the stereotype of the closer who has ice water running through his veins and somehow finds a way to get even better when the pressure starts to mount. Whatever Fraudney has running through his veins certainly isn't ice water and it appears to be oozing out of him and causing a trickle down effect on the rest of the bullpen which is now coming apart at the seams and unraveling an otherwise promising start to the season.
Thanks for that Fernando F@#!ing Rodney. If there is a Baseball God out there, I pray to him that you either finally get things figured out or get DFA'd before I have to give the LVP to you again at mid-season.